MARKET HIGHLIGHT, OCTOBER 2011
PHILADELPHIA
Retail
The Center City Philadelphia retail market is well on its way to recovery. Some retailers have reopened discussions about expansion plans. Restaurants are clamoring for space. New concepts are ready to roll out, and landlords are discussing ground-up development opportunities.
The demand for retail space is growing across many submarkets in Center City. There has been a recent influx of retailers from New York to Washington, D.C., as well as a several international ones looking to make a foray into Center City. The pace of leasing activity has increased, too, and in the past few months retailers like Doc Martens, Barbour, Jack Wills, Free People, Athleta, Chipotle and Crumbs Bake Shop have opened or will soon open new locations in Center City.
Independent restaurants as well as the regional and national chains have long found Philadelphia to be a great restaurant city. The trend has continued with more than 60 new restaurants expected to open by this fall. Stephen Starr has opened concepts Dandelion and Talula's Garden and has two more on the way: Il Pittore and Route 6. Mark Vetri is opening another gourmet outpost and Top Chef Kevin Sbraga is set to open his first white tablecloth restaurant on Broad and Pine Streets.
Walnut Street between Broad Street and 18th Street is Center City's most revered retail address and commands rents upwards of $100 per square foot. Rents in other markets are not lagging far behind. Submarkets like University City and the 13th Street corridor (from Chestnut Street to Locust Street) are hot, as is the Art Museum district.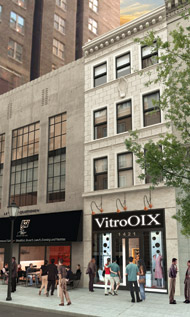 Pearl Properties is transforming 1421 Walnut from the home of the Democratic Party to a retail storefront.
A sure sign of the ongoing vitality of this market is new construction. Adjacent to the Sugar House Casino on Delaware Avenue is Core Group's Penn Treaty Village, a ground-up 250,000-square-foot retail and mixed-use development. University City has traditionally been a vibrant market, but recent proposed construction activity by Drexel University has served to invigorate the market further. The Art Museum area is poised to explode. Groundbreaking for Pearl Properties' The Granary is scheduled for October. This mixed-use development at 20th & Callowhill will contain more than 30,000 square feet of retail. It will also include 200 residential apartments and 150 underground parking spaces. Adjacent to the Granary, Whole Foods has already staked its claim and the Barnes Museum is scheduled to open its door June 2012. Once this occurs, retailers will begin jockeying for space in the Art Museum district. Plans are also underway to rejuvenate the area east of Market Street, rendering the area more attractive to retailers and the pedestrian population. With the goal of attracting more tourists and retailers to the Independence Mall area, developers have submitted plans to revitalize both The Gallery and Girard Square. Along Walnut Street, 1421 Walnut is being transformed from the former home of the Democratic Party to a new retail storefront. Pearl Properties purchased the building in May and is making vast improvements, both on the façade and interior of the building.
Philadelphia does not typically experience the significant economic swings prevalent in other major U.S. cities. Fameco remains very bullish on the future of Center City's retail market. We expect to see a continued recovery in the second half of 2011 and 2012.
— Paige Barrow is a member of Fameco Real Estate LP's Center City Philadelphia office where specializes in both landlord and tenant representation.
Multifamily
Multifamily vacancy has declined and rents have recovered from recessionary levels in the Philadelphia metro, but a softening job market will slow the market's positive momentum in the second half of 2011. After adding jobs in the first 4 months of the year, payrolls contracted in the second quarter as the U.S. economy sputtered. Nonetheless, most of the decline in vacancy projected in 2011 has already been recorded, but an additional, albeit smaller decrease remains on track in the final months of the year. A sufficient number of job sectors will expand, leading to a slight increase in household formation in the next few months. This modest improvement will boost tenant demand as construction activity remains limited, a trend that should persist for several more quarters. Rents, too, continue to rise gradually in many areas of the metro, although properties in working-class areas slightly trail overall growth.
Limited development persists, as no new rentals were delivered in the market in the first half of the year. Over the 12 months ending in the second quarter, two properties comprising 585 units were delivered, compared with 434 rentals in the prior year. The 309-unit Londonbury at Millenium in Conshohocken came online in the third quarter last year, and 276 units at the Mansion at Bala in the Bala-Cynwyd submarket were delivered at the end of 2010. Only 500 units are slated for delivery by year's end. Projects recently started include the 97-unit 600 N. Broad St., and Jefferson at West Goshen in Chester County, which contains 230 rentals. Projects consisting of an additional 3,800 units are planned and await possible advancement to groundbreaking.
Decent job creation earlier in the year, combined with no completions, supported a 30 basis point decline in vacancy in the second quarter to 4.7 percent. Thus far in 2011, net absorption of nearly 1,700 units has reduced the vacancy rate 80 basis points in the metro. In Pennsylvania submarkets, vacancy was 4.1 percent in the second quarter, a decline of 90 basis points since the end of 2011. More than 1,200 additional units were occupied in the first 6 months of this year, with significant gains recorded in the Center City and Germantown submarkets. The vacancy rate in South Jersey dipped 30 basis points in the second quarter to 6.3 percent and has fallen 80 basis points year to date. Net absorption in the first half of 2011 totaled 400 units.
Asking rents increased 0.5 percent in the second quarter to $1,032 per month, the fifth consecutive quarterly increase. Asking rents in the metro have risen 1 percent so far this year. Effective rents also advanced in the second quarter, recording a 0.6 percent jump to $986 per month. The 1.2 percent increase in effective rents posted during the first half of 2011 reduced average concessions 20 basis points to 4.5 percent of asking rents. In the Pennsylvania portion of the market, effective rents have risen 1.3 percent year to date, to $1,017 per month, including a 0.8 percent gain in the April-to-June period. Following a 0.5 percent bump in the spring quarter, effective rents in South Jersey have climbed 1 percent over the past 6 months.
The pace of investment activity in Philadelphia continues to accelerate, and most properties listed for sale will generate competitive bidding, spurred by greater access to financing. During the first half of this year, interest in best-quality Class A properties has been intense, with aggressive pricing pushing down cap rates to less than 6 percent in some instances. Vigorous bidding on these properties continues to push many investors down the quality scale in search of capturing higher yields. As a result, Class B assets in primary Class A locations will trade briskly as the year progresses, with cap rates falling as much as 75 basis points this year to the low- to mid-6-percent range. Class B properties in lesser locations will also garner interest in the coming months, although many buyers will seek discounts for these types of assets. Financing is generally expanding for qualified borrowers, with many regional lenders becoming more active.
— Spencer Yablon is vice president and regional manager of the Philadelphia office of Marcus & Millichap Real Estate Investment Services.
Office
Philadelphia is a hard-scrabble, up-by-the-bootstraps kind of town. It is forward thinking, while watching its back. The market reflects that optimism. The office market will recover slowly, as tenants remain cautious in signing leases, have lengthy negotiations and scrutinize the economics of the deal.
During the first half of 2011, there was notable improvement in year-over-year absorption, specifically in the central business district (CBD) and suburbs. Total net absorption in the CBD for the first half of 2011 was positive at 219,289 square feet. By comparison, at this time last year, the CBD had negative 284,007 square feet of net absorption. In the Philadelphia suburbs, year-to-date absorption for the second quarter of 2011 was positive 377,198 square feet compared to 2010's negative 880,106 square feet.
The current total market vacancy rate for the Philadelphia region is 16.4 percent, a 100-basis-point improvement since the same point last year. The CBD has the lowest vacancy with a 12.6 percent vacancy rate, down from last year's 13.5 percent. The suburbs' vacancy is currently 18.5 percent, down 130 basis points from last year. Rental rates have fluctuated in several major markets over the last year. As a region, asking rental rates are up almost 1 percent from this time last year to $24.16 per square foot.
Demand in the CBD remains steady as there are several large law firms looking for more than 100,000 square feet. In the suburbs, there are currently three companies each looking for more than 150,000 square feet in the market. With no large, quality blocks available at this size, large users are looking at build-to-suit projects. One large pharmaceutical user is expected to sign a 300,000-square-foot deal by the end of the year along the Route 202 corridor. The majority of leasing activity, however, is being driven by users in the 20,000- to 60,000-square-foot range. The tightening of the market in 2011 can be attributed to these mid-range deals.
Property values have not yet stabilized owing to distressed asset and note sales in the suburban Philadelphia submarkets. Active sales will help bring stabilization to the market in 2012. The second quarter saw a significant rise in investment sales, led by Liberty Property Trust's sale of a 32-property portfolio in the Lehigh Valley and a 62,000-square-foot building in Marlton, New Jersey, to the Rothman Institute. In the CBD, the office portion of Two Liberty Place sold as a part of a six-property portfolio. Investors are watching for the post-recovery market to set new watermarks for CBD assets as there are four assets on the market at present.
The only significant office projects currently under development are build-to-suit projects. The Hankin Group is building West Pharmaceutical's new 171,000-square-foot headquarters at Eagleview Corporate Center. GlaxoSmithKline recently broke ground on its new build-to-suit project with Liberty Property Trust at the Philadelphia Navy Yard. Both projects are expected to deliver in 2013.
In the meantime, Philadelphia should continue to see improvement. The Philadelphia economy has seen small job growth. Many of the new leases signed over the last six months have been small companies, growing organically in the CBD. The Philadelphia Metropolitan Statistical Area (MSA) added 7,000 new non-farm jobs (0.3 percent annual job growth) over the previous year. Of the 7,000 jobs added, about 1,200 were in the professional and business services sector.
During the recession, leasing activity was dominated by renewals. In the past year, tenants — largely in the services sector — began to move to higher quality assets. In 2012, with less tenant leverage and few large blocks in trophy assets, leasing activity will begin to shift to lower quality properties. However, in order to drive continued absorption gains, the CBD needs to attract new tenants to the market.
— Michael McCurdy, market director with Jones Lang LaSalle's Philadelphia office.
Industrial
What happens very quickly in the stock market takes years to occur in commercial real estate. Since the terrorist attacks of 9/11, we have witnessed a rise in both sale and lease values, followed by the air coming put of the balloon. While the air was released relatively quickly for rental rates, sale prices have experienced only a slow leak.
Landlords that could afford to wait have gradually decided to accept low rental prices, which would have surprised them just a few years ago, for short term leases. This is helping absorption.
On the other hand, cash-rich prospective buyers hunting for bargains have come to realize that they are not easy to find. Lenders have been reluctant to foreclose and have elected to "blend and extend" their borrowers' notes, making buying opportunities far and few between. At the same time, the historic low interest rates have given buyers — as well as owners who want to refinance — the chance to keep debt service under control.
Due to these factors, Philadelphia and the suburban counties have seen an overall reduction in industrial vacancy year to date in 2011.
Leasing activity continues to be opportunity-driven as companies move within the market to take advantage of low lease rates. In Philadelphia County, this has resulted in the lease-up of lower priced space.
Demand has increased for net-leased assets and well-located projects with upside potential in markets such as the Lehigh Valley and Interstate 81 Corridor, but continues to lag in the immediate Philadelphia area.
In certain situations, property values fell by as much as $10 per square foot between 2008 and 2010, but have not eroded further. On the other hand, well-located, quality buildings for smaller users have held their value.
Liberty Property Trust has two approximately 52,000-square-foot flex buildings under construction at the Navy Yard Commerce Center. One is speculative and the other has been partially preleased by The Fretz Corporation. Teva Pharmaceuticals recently closed on 137 acres in Northeast Philadelphia for a planned 1.2 million-square-foot distribution center. The project is scheduled for completion by mid-2013. The Teva development will represent a major gain in occupancy for Philadelphia County, but may represent the realignment of some operations from other locations. Teva occupies multiple warehouses in Bucks, Montgomery and Lehigh counties.
Cardone Industries has recently put three of its industrial buildings on the market, totaling about 370,000 square feet, as it downsizes. In addition, distribution centers formerly occupied by Home Line Furniture (closure), Westinghouse Lighting (downsizing), and Penn Jersey Paper (relocation and expansion) have all come on the market this year. These properties total 300,000, 230,000 and 180,000 square feet, respectively.
Philadelphia County has been outperforming suburban counties in terms of vacancy, absorption and new construction. The vacancy rate in Philadelphia County was 8.2 percent at the beginning of the third quarter as compared to 8.6 percent for the suburban counties.
Asking rents range from $2 to $5 per square foot for warehouse space depending size, age and location, with quality warehouse space commanding $3.50 to $4.75 per square foot.
Philadelphia has and continues to have a diversified economic base, which insulates it somewhat from the wild highs and lows experienced in other parts of the country. I believe the city recognizes the power in this diversity, and will continue to promote the industrial sector while pressure from adaptive reuse will continue.
— Richard Gorodesky, senior vice president with Colliers International's Philadelphia office

©2011 France Publications, Inc. Duplication or reproduction of this article not permitted without authorization from France Publications, Inc. For information on reprints of this article contact Barbara Sherer at (630) 554-6054.