NORTHEAST SNAPSHOT, OCTOBER 2008
Maine Office Market
Historically, Maine experiences relatively little office development, but recently there has been substantial office construction primarily for businesses and organizations associated with the healthcare industry. Hospitals such as Maine Medical Center, SMMC, Eastern Maine Medical and Mercy Hospital are developing property at a significant rate, and Maine Medical and its affiliated groups can be counted as one of the market's major users of space. Specifically, the company continues to develop medical office space and lab space in Scarborough.
Demand continues to be strong for high-quality medical office space in the southern Maine markets, as well as the urban centers around Lewiston/Auburn, Brunswick, Augusta, Rockland, Waterville and Bangor. All of these communities have recently witnessed new construction or major renovations of buildings for medical-related companies.
One of the largest office buildings under construction in southern Maine is the Intermed building located at 84 Marginal Way in downtown Portland. The anchor tenant for this project is medical provider Intermed, which will be consolidating from several buildings in the greater Portland community to 70,000 square feet at the new project. This will result in the availability of several medical office spaces in the 5,000- to 20,000-square-foot range. Another tenant in this project is Drummond Woodsum, a law firm that will soon vacate 35,000 square feet at 245 Commercial Street to occupy 30,000 square feet at the new project.
In close proximity to the new Intermed project, on Somerset Street in Portland's Bayside neighborhood, is a planned 8-story, 96,000-square-foot office building and 700-space parking garage to be built and occupied by MaineHealth and United Way. Across the street is also a 35,000-square-foot, multi-tenant office building anchored by Gorham Savings Bank, which was completed in 2007.
Other large projects have included the new construction of a medical campus on the Fore River by Mercy Hospital and a partner developer. Phase I of this project consists of more than 200,000 square feet. Recently announced is the construction of a 90,000-square-foot, LEED-certified office building for Fairchild Semiconductor within the Gateway at Scarborough mixed-use project at Haigis Parkway in Scarborough. This project will be complete in 12 to18 months, and will result in the availability of 120,000 square feet at Running Hill Road in South Portland.
In Augusta, another major office development that has been ongoing for the past few years is the Central Maine Commerce Center. This project consists of approximately 350,000 square feet and is virtually 100 percent occupied at this time. It was a converted manufacturing facility that is now an office complex with many state government agencies tenanting the property. This has resulted in increased vacancies in many older office buildings previously occupied by State offices in the Augusta area.
Besides healthcare, another trend that is gaining steam is the conversion of historic mill spaces into office buildings, which is occurring in communities such as Saco, Biddeford, Lewiston/Auburn and Waterville. Still, the majority of office developments in Maine continue to be relatively small projects under 40,000 square feet, and new construction is completed primarily for owner/users or pre-leased anchor tenants occupying more than 50 percent of the property. Much of it is also occurring in the greater Portland area. This area is the economic engine of the state, and companies and organizations grow at a moderate and consistent pace in this region.
Vacancy rates in the greater Portland market, including downtown and suburban submarkets, are in the 6 percent range overall, and are even lower for Class A product. Current medical office vacancy rates are below 5 percent. Class A rental rates in the downtown Portland market are in the $20 to $25 per square foot modified gross, which equates to approximately $15 to $18 per square foot net. Class A rates in the suburban market tend to be in the $15 to $16.50 net range. Outside of greater Portland, Class A rates are in the $12 to $15 net range. In the future, the Biddeford/Saco and Lewiston/Auburn corridors will continue to gain momentum as lower price alternatives for office space with strong labor markets.
— Drew Sigfridson, SIOR, is a designated broker with Portland, Maine-based CB Richard Ellis – The Boulos Company.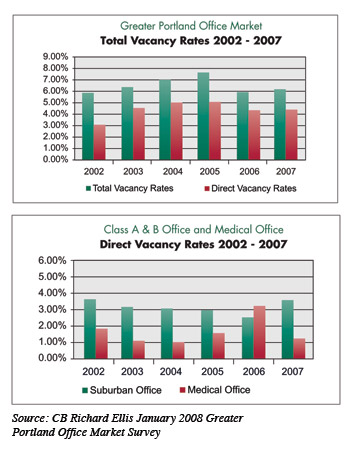 ©2008 France Publications, Inc. Duplication or reproduction of this article not permitted without authorization from France Publications, Inc. For information on reprints of this article contact Barbara Sherer at (630) 554-6054.