COVER STORY, NOVEMBER 2007
A PLACE TO CALL HOME
Profiles of Northeast multifamily developments.
Compiled by Brianne Gloski and Ryan Loftis
This month, Northeast Real Estate Business profiles five different multifamily developments in the Northeast: 10 Chelsea in New York City; Kalahari in New York City; Wall Street Place in Norwalk, Connecticut; Canco Lofts in Jersey City, New Jersey; and Highgrove in Stamford, Connecticut. Utilizing stunning architecture and offering state-of-the-art amenity packages, developers are wooing customers looking for a place to call home.
10 Chelsea - New York City
Development Type: New construction, ground-up, high-rise luxury residential rental
Description: The new 113,000 square-foot tower will feature innovative design elements, along with 107 residential units, ranging in size from studios to three bedrooms. It is located adjacent to the recently-designated Hi-Line City Park.
Owner and Developer: Boymelgreen, New York
Architect: GKV Architects, New York
Construction Schedule: Construction is currently under way. It is tentatively slated for completion for Spring 2008.
Amenities: All of the contemporary apartments will showcase stunning interior design components, including full, modern kitchens and bathrooms. The high-tech lobby's glass ornamental pendant lighting, hardwood wall panels, and loft-style ceiling with exposed ductwork will complement the modern themes throughout. The building's fitness center will be outfitted with state-of-the-art exercise equipment. The light-filled space will open onto a large outdoor terrace directly adjacent to the High Line. This terrace will be accessible by all building residents. Since outdoor space is at such premium in New York, we have incorporated a roof deck that is perfect for lounging or small group get togethers.
The new 10 Chelsea will extend the transformation of the Hi-Line area from the former industrial past to one of today's hottest neighborhoods. 10 Chelsea reflects the neighborhood's history with loft-style apartments with exposed duct work as well as strong concrete and glass façade. The façade of 10 Chelsea has a decorative cast-in-place pattern formed on its surface as part of the structural pour. The subtle pattern is based on the number 10 in 10 Chelsea. It was formed by layering the 10-sided shapes of decagons adjacent to each other. This technique produced an interesting geometric relief that is featured on the column surfaces. 10 Chelsea is unique because it is a luxury rental with the amenities of a condo building.
— Randy Gerner, principal at GKV Architects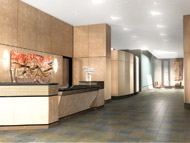 Kalahari - New York City
Development Type: Ground-up
Description: The facility cover a total acreage of 54,184 square feet and features a 432,746 gross square feet, which spans 12 stories.
Developers: Full Spectrum NY, Goldman Sachs Urban Investment Group and L&M Equity Participants
Cost of Project: Approximately $114 million
Executive Architect: GF55 Partners, LLP
Design Architect: Frederic Schwartz Architects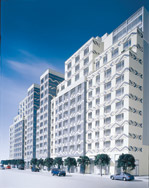 Construction Schedule: Construction began in summer 2006 and is slated for completion in spring 2008.
Amenities: Homes offer bamboo-strip flooring, master baths with Kohler fixtures, marble tile and glass-enclosed showers and a fresh air filtration system that continually purifies interior air quality. Kalahari is one of Manhattan's "greenest" residences to date and utilizes wind-generated energy and on-site solar panels that supply more than 25 percent of the building's energy. Its Energy-Star appliances, paired with the unique features of the residence, reduce energy consumption by 30 percent below the New York State Energy Code.
Central Harlem's rich history of creative production made the area — particularly the vibrant 116th Street corridor — attractive to our investment partners. Built with residents as well as the greater community in mind, the pricing model for homes reflects what potential homebuyers on all income levels can afford. Our efforts to join sustainable green design and unique, luxury amenities are evidenced throughout but also aim to benefit the community at the same time. From its façade to its unique amenities, the homes represent the next generation of living with sustainable design, a healthy lifestyle and the planet in mind.
— Ron Moelis, principal of L&M Market Participants
Wall Street Place - The Heart of Historic Norwalk, Connecticut
Development Type: New construction and renovation of historic buildings, mixed-use development with multifamily residential and retail components
Description: Located on a 6.3 acre site, Wall Street Place will be a sustainable, mixed-use community with 390 residences and 60,000 square feet of retail. It is a blend of historic and modern-day architecture with a series of newly constructed and renovated buildings, Wall Street Place, offers a variety of living options including spacious family sized condominiums, brownstone style live-work homes as well as service oriented retail and boutiques.
Developer and Owner: POKO Partners LLC, Port Chester, N.Y.
Cost of Project: TDC $130 million.
Architect: Crosskey Architects, Hartford, Connecticut.
Construction Schedule: Construction is slated to start fall 2008, and the first phase is scheduled for completion in 2009.
Wall Street Place is part of a massive economic and community redevelopment plan for the historic downtown area of Norwalk. POKO saw a need for high-quality, affordably priced condominiums and rental apartments targeted at middle-income families. We believe that by creating housing that is truly in the middle market we will be providing a product not currently available to an underserved demographic. One of our goals is to encourage a more environmentally responsible and active lifestyle by promoting the ease of living in an urban environment with shops and restaurants only steps away. We are hoping to redirect and calm traffic along the commercial corridor of Wall Street. As we are finalizing our designs, our goal is to develop a property that blends the excitement of a hi-tech and urban setting with the historic, green and serene environment of the suburbs. Wall Street Place is targeted at the middle market and designed with families in mind. We will incorporate green technology and create a pedestrian-friendly meeting place with cafes and retail. Brownstone style homes with a live-work option along Isaac Street will remind area residents of Boston's famous Newbury Street. [The project] will play a major role in changing the face of the existing downtown area of Norwalk into a thriving community. POKO Partner's sees an opportunity to not only build high quality residences but to create a neighborhood.
— Kenneth Olson, president of POKO Partners LLC
Canco Lofts - Jersey City, New Jersey
Development type: Conversion of landmark American Can Company factory into loft residences.
Cost of Project: $250 million
Description: The 1 million-square-foot building will feature one five-tower building with six stories and 551 units.
Owner and Developer: Coalco New York, Manhattan, New York
Design Architect: SBLM Architects
Lobby Architect: LOT-EK
Construction schedule: Construction began in March 2007 and full completion is anticipated in 2009. The first delivery is expected spring 2008.
Amenities: An approximately 10,000-square-foot Residents Club is included in the community, which will house a 2,500-square-foot fitness center with cardio and weight training equipment, programmable room for yoga and Pilates and a half-basketball court. Other amenities include a 24-hour attended lobby, a children's play center, movement and conference rooms with wireless Internet access, a screening room and a game room for billards and video games, a community lounge with a bar, a juice bar, an outside terrace, courtyard gardens, an art studio and on-site parking.
Canco Lofts is a neighborhood unto itself and is a cornerstone of Jersey City's ongoing revitalization. A departure from the never-ending rows of high-rise condominiums that line Jersey City's waterfront, Canco Lofts has successfully positioned itself as a desirable-and more affordable-alternative to these developments, without compromising the dramatic architectural designs, sleek interior finishes and comprehensive amenities buyers are looking for in a luxury condominium community. The structure's art deco design and distinctive saw-toothed roofline make it one of the most identifiable and well-known beings in Jersey City history. The building's former life as the American Can Company factory had a significant impact on its design. Unique architectural elements that could never be replicated in new construction are available here, such as 14-foot ceilings that increase to 27 feet in the penthouse condos, dramatic mushroom-capped columns in each residence and 10,000 square feet of continuous in-house amenities. High ceilings allow for 11-foot panoramic windows. Exposed ductwork highlights the building's former life as an industrial landmark. This is the largest single-building conversion project in Jersey City at 1 million square feet, and the building is extremely well-known among the local and regional population. A groundbreaking lobby, designed by the Manhattan-based architectural studio LOT-EK, features a 21-screen media wall installation that will be used to show video art, community news updates, surveillance and footage of the Manhattan skyline.
— Edward Yorukoff, director of marketing for Canco Lofts
The 18-story Highgrove in Stamford, Connecticut, offers 95 units.
Highgrove - Stamford, Connecticut
Development Type: Ground-up luxury high-rise
Description: 350,000 square-foot, 18-story tower comprised of 95 spacious condominium residences and 230 indoor valet parking spaces
Developer and Owner: Ceebraid-Signal Corp. of Stamford, Connecticut.
Cost of Project: $100 million
Architect: Robert A.M. Stern Architects
Construction Schedule: Construction began summer 2007 and is set for completion summer 2009. Sales are currently underway.
Amenities: Private elevator access to each home, wine cellar, 24-hour doorman, concierge, indoor swimming pool with retractable roof, private outdoor terraces, fireplaces in select homes, year-round room-by-room personal climate control, state-of-the-art designer appliances, pre-wiring for cable and high-speed Internet, spa and fitness center, private screening room and valet parking.
Over the past 10 years, downtown Stamford has changed from a sleepy commuter town to a 24-hour city that appeals to upscale, urbane people. Like many smaller cities around the country that have redeveloped their downtown areas, Stamford's missing component has been the lack of upscale housing options.Stamford has developed the commercial base and it is time to develop the housing options. Given these factors and the obvious need for high-end, full-service high-rise buildings, we created the concept of a Robert A.M. Stern-designed tower that is within walking distance to all of the restaurants, theaters and shopping areas Stamford's downtown has to offer. Robert A.M. Stern Architects designed Highgrove in the classic style as a contrast to the sterile glass-and-steel buildings that have become popular among new multi-housing residential construction in urban areas. Highgrove's spacious two-, three- and four-bedroom residences, featuring an average of 2,558 square feet of living space, allow for more than enough room to entertain. Some of the unique aspects of the project include its centralized location in Stamford's downtown business district, where there is currently limited luxury residential development. There is an increasing demand for luxury housing in downtown Stamford that provides residents with direct access to the city's many fine restaurants, retailers, cultural and entertainment venues, as well as the Stamford Transportation Center, offering a short commute into New York City. Luxury housing such as Highgrove in a downtown area also serves to increase traffic to local businesses and is a significant tax ratable. Through a partnership forged between developer Ceebraid-Signal Corp. and St. Luke's Lifeworks, a local nonprofit organization, the development will also result in up to 22 units of off-site affordable housing for Stamford.
— Jason Schlesinger, principal was Ceebraid-Signal Corp.


©2007 France Publications, Inc. Duplication or reproduction of this article not permitted without authorization from France Publications, Inc. For information on reprints of this article contact Barbara Sherer at (630) 554-6054.