MARKET HIGHLIGHT, MAY 2007
BOSTON/NEW ENGLAND COAST MARKET HIGHLIGHTS
Boston Industrial Market
Though Boston's location in the far Northeast geographically excludes it from becoming a strategic distribution hub, the city's warehouse product still exceeds the 100 million-square-foot range and its total industrial inventory is more than double that, at approximately 260 million square feet including manufacturing, R&D and flex space. This critical mass continues to attract a range of investor and tenant interest and keeps the market on an upswing.
"Boston's industrial rents and pricing are on the rise. This is good news considering the string of large warehouse tenants — such as Stop & Shop, BJs and Sears' HomeLife — that in the past few years left existing local industrial space to build and relocate into their own sizeable new Boston-area industrial buildings. The moves left significant vacancies in their wake," says Bill Locke, head of Bay Colony Property Company. "Fortunately, this vacated space is not only now being backfilled, but some new speculative space is being built on a very strategic and conservative basis."
In contrast to Boston's older warehouse inventory, this new industrial construction boasts clear heights of more than 30 feet, wide truck bays, wide column widths and state-of-the-art security and fire protection systems. Virtually all new construction is being brought to market by local or regional developers, few of whom are willing to begin construction of a large facility on speculation. When completed and rented, a number of institutional investors buy the larger buildings from the regional developers. To date, the major U.S. warehouse/distribution development companies have not moved into the New England markets.
Geographically, most new warehouse/distribution space is coming online in the Route 495 South area, about 30 miles southwest of Boston and near Providence (New England's second largest city), in areas such as Franklin, Mansfield and Taunton. Here, there is a larger inventory of flat, developable land and the transportation infrastructure allows trucks to sidestep toll roads by traveling up from New York/New Jersey on I-95. Vacancy rates in the southwest, which sit at less than 5 percent for Class A space, reflecting tenant demand in the submarket. In other areas of the region, particularly among Class B space, vacancies reach into the mid-teens.
Demand for new, well-located Boston industrial space also is reflected in sale pricing, which for Class A warehouse product can reach as high as $80 per square foot as compared to $50 and $55 per square foot for older warehouse buildings. Rent for Class A space ranges from the high $5s to low $6s per square foot, triple net, while Class B space is renting on average from the high $4s to the low $5s per square foot.
These figures keep Boston industrial product an attractive proposition for local owner/users, who make up a good portion of the market, as well as for the big players that remain active investors here, such as AMB, Archon, AEW, Spirit Finance, CBRE Investors and RREEF. As Boston continues to improve its footing on the occupancy front, buyers will no doubt sustain their long-term real estate investment strategy for the region.
— Bob Miller is a senior advisor at Sperry Van Ness.
Multifamily New England Coast Market
The Greater Portland multifamily investment market has cooled over the past year, and continued to remain slow in the first quarter of 2007. The market has seen a gradual run-up from the lows of the early 90s of around $20,000 per unit to today's highs of $80,000. With the slowdown of the residential market, properties that are still considered residential by lender's standards have been most affected (Properties consisting of two to four units). Properties consisting of five units and above have not been as significantly impacted on a per unit basis, but have still seen a pricing correction based on more conservative underwriting criteria and more realistic return expectations.
Through the end of 2006, properties still traded in the price range of $75,000 to $85,000 per unit. In the first quarter of 2007, pricing has been pressured downwards towards $60,000 to $65,000 per unit. There have been spotty sales in the higher price range, usually a result of out of state investors expanding into the Maine market or investors with 1031 exchange money to place. The 672-unit Equity residential portfolio has not yet closed. This portfolio has been on and off the market a few times in the past year. The original target price was above $100,000 per unit.
There are a number of factors that have pressured pricing downwards. A tremendous amount of inventory has been added to the market in the form of low income tax credit projects. This has affected vacancy rates and put downward pressure on rents. Secondly, operating expenses have gone up due to the rise in oil prices, property taxes and insurance. Interest rates on conventional loans have continued to rise, which in effect increases return expectations.
Projects that can meet conduit or Fanny Mae criteria still can offer attractive financing options since these rates are indexed off the 10-year treasury. In addition, because the residential market is soft, the demand for converting multifamily properties into condominiums has significantly slowed. Therefore, pricing is no longer based on appreciation and/or conversion potential but has shifted back to pricing based on cash flow and return on capital. Property owners' pricing expectations should be based on a market driven return on capital, which on average has been an 8 percent to 9 percent capitalization rate, depending on specific property factors.
— Ryan Bishop is an associate broker at NAI The Dunham Group in Portland, Maine.
Boston Retail Market
According to Marcus & Millichap's 2007 National Retail Report, Boston's retail market continues to thrive. Vacancy is expected to remain tight and rent growth is anticipated throughout 2007.
• In the Central Boston submarket retail stock has increased by 12 percent since 2003 with demand increasing by 19 percent within the same period. Vacancy rates in this market are in the 4 percent range.
• It is anticipated that 1.5 million square feet of retail space will be constructed in 2007, much of which will be single-tenant properties
• A reduction in available space and increased job growth will help push vacancies down to 5.1 percent in 2007.
• Retail rents are expected to increase by 3 percent with asking rents sitting at approximately $22 per square foot. Sitting at approximately $20 per square foot, effective rents will increase by 2.6 percent.
• Employment growth and rising disposable incomes in Middlesex County are anticipated to fuel demand for more restaurant properties.
— Marcus & Millichap's 2007 National Retail Report.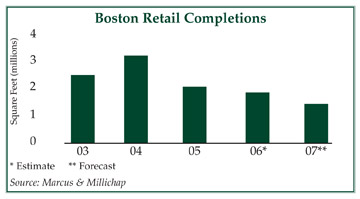 ©2007 France Publications, Inc. Duplication or reproduction of this article not permitted without authorization from France Publications, Inc. For information on reprints of this article contact Barbara Sherer at (630) 554-6054.