MARKET HIGHLIGHT, MAY 2005
BOSTON MARKET CONTINUES STEADY RECOVERY
Boston Multifamily Market
The multifamily market in the greater Boston area is coming off of a year of growth and activity in 2004 and should continue to thrive through 2005. The current success stems from strong sales activity, new development and the trend of condominium conversion.
Approximately 3,553 units in 17 developments were delivered throughout greater Boston in 2004. Notable products include Avalon at Crane Brook in Peabody (400 units), Overlook Ridge in Revere/Malden (310 units), HighPoint in Quincy (394 units) and ArborPoint at Plantation Ridge in Worcester (330 units).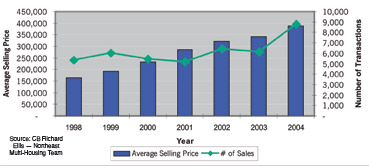 The potential deliveries for 2005 show a peak of approximately 3,924 units in 19 communities. With a rental housing stock base of approximately 875,000 units for the greater Boston market and the condo conversion phenomena, the potential supply of new units will not materially impact the market. Many developments will not break ground and the new supply is a small fraction of the overall inventory. The potential of 3,924 units pales in comparison to the 40,000 units that are routinely delivered in the Atlanta market each year.
While many planned developments will never be delivered due to lack of permitting or capital, supply will also be offset by the conversion of many units to condominiums. This phenomenon has never been more evident than in the East Cambridge/Charlestown market, where more than 1,000 units have already been converted or are slated to be converted to condos. Notably, the conversions are not limited to urban infill locations. Spicket Commons in Methuen (164 units) is slated to be converted to condos, as are Riverbend Apartments (252 units) in Woonsocket, Rhode Island, and Ironwood on the Green in Middleton (204 units).
This onslaught has been the most significant change in the multifamily investment market over the past year. Of the 22 properties that traded at more than $10 million, eight were sold to condominium converters for a total of $365 million and 1,371 units. All in all, the 22 multifamily transactions totaled $758 million in total consideration. With interest rates remaining relatively stable post-election, this trend is expected to continue into 2005, particularly in the first-time, affordable housing arena.
The market fundamentals for the apartment market continue to show modest improvement indicated by declining concessions and improvements in occupancy. Market-wide average vacancies have declined to approximately 5 percent, which is well below national levels. Certain submarkets are reporting vacancy rates that are averaging closer to 8 percent, while others are averaging closer to 3 percent. Generally, those submarkets that have the highest vacancy rates are those that have experienced a recent surge of new development. Within the various product classes, Class A communities have the highest vacancy rate at 6.4 percent, while Class B communities boast a 4.3 percent vacancy rate.
Certain submarkets are still experiencing heavy concessions with 2 months of free rent being offered on a 12-month lease. Other submarkets have limited concessions; market-wide, concessions are averaging approximately three-quarters of a month's rent, or approximately 6.3 percent of gross potential rent. Effective rents have increased over the past 12 months and are expected to continue to do so through 2005.
— Simon Butler, senior vice president and partner; Biria St. John, vice president; and Chris Sower, analyst; are with the CB Richard Ellis — Multi-Housing Team.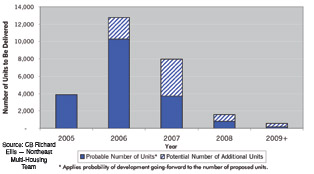 Boston Industrial Market
Boston's industrial market showed minor changes from the previous quarter, indicating initial signs of stabilization. The overall vacancy rate posted a slight increase of 20 basis points to 16.8 percent in the first quarter of 2005. Moderate increases in overall vacancy rates continue to be the dominant trend in the local industrial market for warehouse/distribution and manufacturing property types. New warehouse construction continues to hinder any decrease in vacancy rates as tenants vacate larger obsolete buildings and move into more efficient state-of-the-art facilities. Additionally, the trend of decreasing rents was broken in the first quarter of 2005 as the overall direct net asking rents of $7.06 per square foot were unchanged from the previous quarter.
Overall vacancy rates were unchanged during the first quarter in the manufacturing sector, holding steady at 12.9 percent. Significant leasing opportunities exist in the current manufacturing marketplace. Atlantic Extrusions vacated 96 Swampscott in Salem during September of last year and the 169,800-square-foot manufacturing facility remains vacant. In Worcester, 344-354 Franklin Street is more than 81 percent vacant with 280,000 square feet directly available since October of 2003. The absence of any substantial manufacturing projects under construction combined with steady demand should help maintain vacancy rates at the current level for the remainder of the year.
Leasing activity in the warehouse/distribution sector was nearly 1 million square feet and the overall vacancy rate increased slightly by 30 basis points to 17.7 percent. PetEdge leased 120,000 square feet at 45 Holton Street in Woburn. O'Charley's Restaurants will occupy 78,000 square feet at 1-8 Mechanic Street when construction is completed in August. At 14 Aegean Drive, the 234,000-square-foot warehouse building achieved 100 percent occupancy with recent leases to Crown, Cork & Seal (80,000 square feet) and Mattress Giant (63,000 square feet). The suburban submarkets continue to be active in new construction. Currently being developed is 645,812 square feet of new warehouse/distribution facilities; however, at the end of the first quarter, 62.5 percent of that space has already been leased. The recently completed warehouse space at 55 Lyman Street, a 131,975-square-foot building in Northborough, was finished in February and remains vacant.
After nearly eight quarters of record volume, sales activity moderately declined during the first quarter of 2005. Lucrative investment opportunities still exist in the current marketplace and demand remains high. The Beacon Companies purchased 1100 Technology Park Drive in Billerica for $35.4 million. The high-technology facility is fully leased to GE Panametric. Invesco Real Estate purchased 135 Constitution Boulevard, a 227,000-square-foot high-technology building in Franklin, for $15.5 million from Davel Realty Associates. Higher interest rates, coupled with a decrease in the number of fully leased properties for sale, may force investors to seek out facilities with lower occupancy rates that, once fully leased, can be sold at a premium.
— Rich Ruggiero is a director with the brokerage services group in Cushman & Wakefield's Boston office.
Boston Retail Market
According Finard & Company's 2005 Eastern Massachusetts/Greater Boston retail report, the Greater Boston retail market is generally healthy and active. Total supply equaled 172 million square feet with a vacancy rate of 6.3 percent, down slightly from last year. Categories showing major growth include department stores, building materials, and grocery stores, which added 895,500 square feet, 626,700 square feet, and 186,500 square feet, respectively. Other growing categories include beauty salons and services, amusement and recreation, health and fitness, restaurants, and drugstores. This indicates retailers' awareness of an aging population that is conscious of health, appearance and leisure.
Retailers expanding in the area include The Home Depot, Shaw's Supermarket, Burlington Coat Factory, Target, Lowe's Home Improvement Warehouse, Wal-Mart, Kohl's, Walgreens, Subway, Curves for Women and Dunkin' Donuts. There have been no mass closings due to bankruptcy or mergers presently, but two major mergers recently in the news, Federated Department Stores/May and Kmart/Sears, will impact the local market, although it's unclear to what extent.
The Federated/May deal will likely involve the conversion of Filene's into Macy's. Seven metro-Boston properties include both Macy's and Filene's. These locations, in six malls plus Downtown Crossing, a major shopping area near Boston's Financial District, total 3.1 million square feet.
There are 17 Sears and 14 Kmart locations in metro Boston, totaling 3.9 million square feet, with some Sears stores located in the malls mentioned above. Sears Holdings Corp. has said that widespread store closings are not part of its plan, although some Kmart stores will be converted to the new Sears Essentials format.
Development activity continues in the area. Recently opened projects include the first phases of the 400,000-square-foot Crossings at Walkers Brook in Reading, which consists of a 140,000-square-foot Home Depot, a 260,000-square-foot Jordan's Furniture and an IMAX theatre. Super Stop & Shop Supermarket and Target have opened at the 252,000-square-foot Suffolk Downs Shopping Center in Revere. Target has also opened at Plainville Commons, a 285,000-square-foot center in Plainville that will include additional tenants such as TJ Maxx, Super Stop & Shop, and Chili's, plus multiple pad sites. Upcoming projects include a $450 million expansion plan by General Growth at the Natick Mall, which will add Neiman Marcus and Nordstrom to the tenant roster with planned 2007 openings, and a proposed major retail center in Tewksbury by The Mills Corporation.
On the investment side, demand for retail properties in the area remains high in relation to limited availability. Notable deals include the purchase of the 86,290-square-foot Burlington Square for $26 million by Heritage Property Investment Trust and Equity One's $120 million purchase of the Shaw's Supermarkets Boston portfolio of six properties totaling 390,986 square feet.
— Bob Sheehan is vice president of research at Finard & Company, a retail services firm in Burlington, Massachusetts.
Boston Office Market
Sustained high valuations, continued falling vacancy, and stable lease rates characterize a Greater Boston commercial office market that just experienced its sixth consecutive quarter of positive absorption. Vacancy for the Greater Boston area was 18.9 percent as of the first quarter of 2005, during which it experienced 235,000 square feet of positive absorption. Despite the overall demand, not all submarkets benefited from the activity, and performance in many areas remains mixed.
In Boston's Central Business District, including the Financial District and Back Bay, large single users have been, and continue to be, the Achilles' heel of absorption activity, as the strategic maneuvers of these organizations result in space consolidations. This has somewhat upstaged the strong positive growth in demand among the small- and mid-sized users. Recently merged companies, Bank of America and Manulife Financial, have combined for several hundred thousand square feet of vacated space while the dissolution of law firm Testa Hurwitz has opened up 250,000 square feet. The Testa vacancy, however, is likely to be compensated by the former partners and associates of the firm occupying space, within law firms, elsewhere in the submarket.
The Cambridge submarket is the center of the market's construction activity, with 544,000 square feet in the pipeline. All of the new space, except 45,000 square feet, has been committed to by the Broad Institute, Schlumberger, and the Smithsonian Institute — all new requirements in the market.
Route 128 has exhibited a sharply falling vacancy rate, which, at 19.6 percent, is under 20 percent for the first time in 10 quarters. Stiffening lease rates, at $23.10 per square foot, are now at their highest levels in seven quarters. The sale of the 973,000-square-foot Bay Colony Corporate Center for $280 per square foot further signals wide expectations of the area's continued positive demand.
The submarkets along Interstate 495 are starting to experience momentum in the North submarket, the Greater Boston area's most heavily vacant submarket. The submarket remains 31 percent vacant, though it has experienced three consecutive quarters of positive absorption. The large user-dominated I-495 area has 14 empty buildings each more than 100,000 square feet.
The dearth of speculative construction activity will hasten a decline in vacancy should positive demand persist. Activity consistent with these expectations was reflected in the Central Boston submarkets during the first quarter of 2005, as 21.7 percent of all office buildings experienced gains in occupancy, versus only 10.6 percent that experienced declines. Additionally, the area's vulnerability to large companies' strategic downsizings is the lowest it has ever been; the largest office occupant in the market, Fidelity Investments, occupies only 2.2 percent of the market, and only one other occupant holds more than 1 percent. Continued industry dominance on the part of the large space users, along with the formation and growth of small and mid-sized companies with improving economic and financing conditions, will likely drive Boston's continued recovery.
— Brendan Carroll is the director of research at Richards Barry Joyce & Partners, a Boston-based full-service commercial real estate firm.


©2005 France Publications, Inc. Duplication or reproduction of this article not permitted without authorization from France Publications, Inc. For information on reprints of this article contact Barbara Sherer at (630) 554-6054.