FEATURE ARTICLE, MARCH 2005
INDUSTRIAL DEVELOPMENT SPOTLIGHT
The Haines Industrial Center
Burlington and Florence Township, New Jersey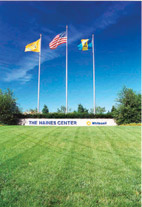 The Haines Center, which spans two New Jersey townships, was named for New Jersey Senator William C. Haines. The center is located in Burlington County.

The Haines Industrial Center encompasses 700 acres and straddles two New Jersey townships: Burlington and Florence. The developer, Delran, New Jersey-based Whitesell Company, started the project in 1997 and has an open completion date. Phase II, which will focus on the Florence Township parcel of the development, began in October 2004. The nine buildings of Phase I, totaling 2.27 million square feet in Burlington Township, are completed and occupied.

Situated near the newly completed $35 million U.S. Route 130/ New Jersey Turnpike/ Pennsylvania Turnpike connector Interchange (Exit 6/6A), the master-planned development is about 45 minutes north of Center City Philadelphia. In addition to easy access to major interstate highway systems, the center has daily Norfolk Southern/ CSX rail service on site. The Haines Industrial Center is one of the few industrial parks in the state to offer build-to-suit sites that are rail-served for direct shipment of freight.

The central location and accessibility of the land is a selling point for the development. The land, which was once owned by an oil company, has been on Whitesell's radar for quite some time.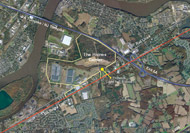 This aerial view of The Haines Industrial Center illustrates the center's proximity to the New Jersey and Pennsylvania turnpikes, and rail lines.

"We've been looking at this site for 30 years," says Richard Cureton, executive vice president of Whitesell. "We tried to buy it 30 years ago and eventually, 5 years ago, we were successful in purchasing it when [the oil company] finally decided to sell the property, which they had never developed. The beauty of the site is the fact that it's at the crossroads of the New Jersey and the Pennsylvania turnpikes, so accessibility is tremendous. And it also has rail that goes right through the heart of the site as well."

Whitesell has been seeing some success with the location of the center in the region itself.

"I think there is a pattern now where distribution activity that may want to be close to the New York port in North Jersey has been pushed further and further south because of availability of product and the cost of real estate," says Cureton. "So Exit 6A, where our project is located, is now on the radar screen of companies and real estate brokers that previously may have only been looking at Exit 8A and not further south."

One of the buildings at Haines Industrial Center, 400 John Galt Way.

Once completed, the Haines Industrial Center, named for New Jersey Senator William C. Haines, will comprise more that 6 million square feet and could possibly include a retail component.

The Haines Industrial Center, where properties can be leased or built-to-suit, already has tenants such as BJ's Wholesale Distribution Center, Canon and The Sports Authority. Whitesell is marketing the center to production, warehouse and distribution operations — both large and small companies — that need modern, rail-served facilities and access to major East Coast markets.
475 Cayuga Road
Cheektowaga, New York
Completed in late 2004, 475 Cayuga Road in Airport Commerce Park is centrally located to Western New York, near the Buffalo-Niagara Airport.

The latest addition to Ciminelli Development Corporation's Airport Commerce Park was finished in fall 2004. The 120,000-square-foot warehouse/distribution building at 475 Cayuga Road in Cheektowaga, New York, broke ground in summer 2004. Situated in a 20-acre complex, 475 Cayuga Road sits on Buffalo-Niagara Airport land and is directly adjacent to Air-Cargo Buffalo, Ciminelli's existing air cargo operations — the only such operations in Western New York. In addition, the park is close to the New York State Thruway system. This location makes the project, which cost $4 million, valuable to logistics providers, freight forwarding and just-in-time operations.

"Due to its central location," says Nikki Alieva, marketing manager for Ciminelli Development, "the park is ideal for companies providing immediate services to its clients."

Ciminelli, based in Williamsville, New York, is the developer and general contractor for 475 Cayuga Road, with George Lukaszewicz serving as architect.
Elmgrove Crossings Business Park
Gates, New York

Started in 1999, Elmgrove Crossings Business Park in Gates, New York, has an expected completion date of 2009.

Situated on 140 acres with 23 lots ranging in size from 3 to 7 acres, Elmgrove Crossing Business Park is located in the town of Gates, New York, near Rochester in Monroe County. Gallina Development Corporation, which is based in Rochester, is developing the flex/industrial park with an eye toward tenants and buyers interested in warehouse or distribution space with 10 percent to 20 percent office requirements. Other targets are high-end manufacturing businesses with special build-out requirements. And there are parcels on the south side of the park designated for office/ research and development projects.

The strong speculative flex market in the Rochester area affected the choice of location for Gallina, which has been developing speculative flex parks in western Monroe County for more than 20 years.

"The Rochester market has absorbed speculative flex and industrial development for the last 30 years and the last 5 years have been no exception," says Kurt Sertl, director of leasing for Gallina. "Demand for new flex space in this area has remained constant, with larger companies consistently showing demand for new product, which can be built out to their exact specifications."

Other factors driving the development of Elmgrove Crossing Business Park are the demand for smaller blocks (5,000 to 20,000 square feet) of high bay space and excellent expressway access, providing quick access to the Rochester central business district and the New York State Thruway.

The 10 buildings that have been completed since the project began in 1999 comprise 300,000 square feet of space, and an additional 400,000 square feet will be added once all 23 buildings are completed, which is expected to happen in 2009. Thus far, the park cost has been $20 million, with a projected additional cost of $24 million. All floor plans are build-to-suit, and buildings have 16-foot to 21-foot clear ceiling height, concrete rear loading areas and direct access suites.

Signed tenants at Elmgrove Crossing include Time Warner Telecom, Sears Home Improvement, FedEx Ground Package Systems, Kaman Industrial, Nippon Express, Amarr Company, Mazzer Industries, ITT Flygt and The Scotts Company. Rotork Controls Inc., YMCA and Schwan's Ice Cream are all buyers. The general contractor for the park is Gal-Son Development Inc., which is affiliated with Gallina; Corneles Engineering P.C. is the architect.



©2005 France Publications, Inc. Duplication or reproduction of this article not permitted without authorization from France Publications, Inc. For information on reprints of this article contact Barbara Sherer at (630) 554-6054.