MARKET HIGHLIGHT, JUNE 2007
UPSTATE NEW YORK MARKET HIGHLIGHTS
Upstate New York Office Market
Rochester, New York
The Rochester office market is showing signs of improvement after several years of static rental rates and little or no development. In Rochester's downtown central business district (CBD), many of the existing old mill-style buildings are being converted into loft-style office buildings with apartments situated on the upper floors. Buckingham Commons, located at 85 Allen Street at Plymouth Avenue, is one example of this type of redevelopment. Originally built in 1896, the seven-story building was recently renovated by Buckingham Properties and now includes office space and loft apartments totaling 72,800 square feet.
In the suburban markets, mostly in the south central and southeast markets of Henrietta and Victor, some new Class A office and flex space is being developed. The southeast market is seeing quite a bit of development since it is home to the majority of the office driven workforce in Rochester, and location is the key to development in the south central market as it is an equal distance from the west side and the east side of the city. Both of these regions are closer to the interchanges for I-90. MCA Group recently completed Omnitech Business Park in the Victor area just off Route 96. The 80-acre site contains five Class A flex buildings totaling more than 200,000 square feet and is currently 100 percent leased. The site also contains space for future buildings.
Also in Victor, High Point Business Park is currently being developed. The project will include office space situated within two 120,000-square-foot buildings and one 150,000-square-foot building, as well as 72 luxury townhomes and retail space. Christa Development is currently constructing a Class A office building at 1241 Pittsford-Victor Road. Located in the Bushnell Basin in the suburban Perinton market, this development is slated for completion this summer. The Calkins Road Professional Business Park in the Henrietta suburban market is also garnering quite a bit of interest from tenants moving into and expanding in the area. Office buildings were also recently constructed for companies such as Unisys, Current Communications and Global Communications.
Medical office space has become a hot commodity in the Rochester market as well, especially in the south central Brighton and Henrietta region. Located at the intersection of routes 490 and 441, the Linden Oaks Office Park will soon offer a state-of-the-art medical campus that includes special amenities such as oversized elevators, automatic entry doors for wheelchairs and strict adherence to ADA standards.
The 2007 Class A suburban market is projected to show continued improvement and the current construction in the area proves it. Currently, vacancy rates for suburban Class A office space are hovering at less than 9 percent. The vacancy rates for office space in the suburban Class B market were sitting at 15.5 percent last year, but this year that rate has gone down a couple of percentage points to approximately 12.5 percent.
Vacancy rates in the CBD for Class A space are between 10 percent and 12 percent; however, the Class B market in the CBD is not fairing quite as well with a vacancy rate hovering around 32 percent. Much of the Class B space in the CBD area is older with outdated amenities, and rather than being renovated as prime office space, much of it is being converted for residential use. Rental rates for Class A space in the CBD are in the low $20s, but select buildings such as The Bausch & Lomb building are in the low $30s.
Rental rates for Class B office space in the CBD are in the $10 to $15 range. In Rochester's suburban market, rental rates for Class A office space range from $18 to $23, and Class B space is approximately $15 to $18. Medical office space tends to be slightly higher due to the specific build outs required for doctor's offices; thus, generally rates are running at approximately $25. Investment sales activity continues to be strong in the Rochester market as developers sell their office portfolios to outside investors such as large REITS and buyers from New York City, California and Texas.
Throughout the rest of 2007 and into 2008, the flex market and the Class A suburban office market will continue to expand in the Rochester area with the majority of the flex market activity concentrated in the south central and the southeast area of Victor and Henrietta. Vacancy rates are expected to continue to decrease slightly and the future continues to look bright for the office market in Rochester.
— Daniel J. O'Neill, SIOR, is a senior director at NAI Pyramid Brokerage in Rochester, New York.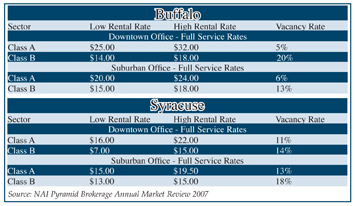 Upstate New York Multifamily Market
Although not as frothy as its downstate neighbor, upstate New York's multifamily market has remained quite healthy. Occupancies are high, compared to the national average, and rental rates continue to rise. While employment and population growth have slowed, Albany's biotechnology sector will fuel the economy and drive workers to the region. Opportunistic investors would be wise to acquire suburban multifamily properties with significant upside potential from REITs and other institutional investors currently shedding apartment assets in this region.
Occupancy rates for multifamily properties currently stand at approximately 95 percent in upstate New York's larger suburban markets, including Albany, Rochester and Syracuse. In Rochester, the average effective rent jumped from $671 in Q1 2006 to $687 in Q1 2007, while Syracuse rents have increased from $613 to $625 a square foot during the same time period.
Further sparking demand for rental units are the new biotechnology projects coming online in the Capitol Region. The Albany Nanotech building, an IBM factory in Albany, and the Luther Forest Technology Campus in Malta (Saratoga County), a 1,350-acre property designed for nanotechnology manufacturing and research and development are some examples of recently developed properties fueling the region's economy. In fact, employment at Albany Nanotech doubled to 1,400 employees by the end of 2006. Now, a second 250,000-square-foot building is in the works, which will bring even more workers to the area.
Recently, a number of multifamily portfolio deals have closed in the region, providing opportunistic buyers in the market with potential value-added plays. Home Properties and Aspen Square Management sold their upstate New York portfolios, including complexes in Syracuse, Rochester and Buffalo. Presently Coolidge Equities is listing a total of 2,481 units in Albany and Syracuse for approximately $111 million.
Suburban Class A and Class B properties continue to generate stable returns for investors in Upstate New York. Cap rates for new or recently renovated Class A apartments range from 6.75 percent to 7 percent.
Through 2007, the multifamily market in Upstate New York is expected to remain stable, bolstered by solid operating fundamentals and steady demand. Albany, in particular, will continue to thrive as market conditions tighten, and investors will continue to perceive the Capitol Region as the most economically secure and viable Upstate marketplace. Well-located Class A suburban properties offering high-end amenities will generate stable income streams for owners this year, while properties that are not upgraded or renovated will suffer.
— Jeffrey Gorodensky is a senior investment associate in the New Jersey office of Marcus & Millichap. Gorodensky is also a director of the firm's National Multi-Housing Group.
Upstate New York Investment Market Self Storage
Self storage as an investment class has certainly gained the respect of the investment community these past several years. However, you can not segregate the business/operations aspect from the real estate. As a matter of fact, the economies of scale of ownership of multiple facilities in the same market helps make this investment more attractive as market share does translate into cost efficiencies. Therefore, third party management companies are increasing their presence in the marketplace and giving smaller investors the opportunity to compete against large operators. Many of these larger operators now have institutional equity investors, lowering their cost of capital and improving their returns.
While the Upstate New York market has been largely ignored by the larger operators and institutional investors because of the "no growth" in jobs and population, there are pockets of growth in each community. This applies to Buffalo, Rochester, Syracuse, Albany, Watertown, Plattsburgh and Binghamton. Growth is occurring in the Orange County, Dutchess County and Saratoga County markets and along with that growth is the development of self storage and other commercial developments.
The self storage industry doubled its size from one billion square feet of space to two billion square feet in the 10 years from 1995 to 2005. The industry remains dominated by individual owners/operators as the top 10 operators in the United States only make up 10 percent of the market share. Consolidation of owners will continue to occur as the economies of scale to multiple ownerships are real. The fourth largest operator in the U.S. right now is Sovran Self Storage, dba Uncle Bob's Self Storage, based in Upstate New York (Buffalo) where they just acquired the largest independent owner of self storage facilities in Buffalo. While every national operator has a presence in the metro New York City area, Sovran Self Storage is the only one to own properties in Upstate New York.
All four of the publicly traded self storage REITs recently announced their first quarter financial results which are fairly reflective on the market as a whole. Public Storage, Inc., reported a net income of $59.78 million for first quarter 2007, a loss compared to the net income of $114.22 million for the same period in 2006. Public Storage noted that the loss was due to the recent acquisition of Shugard Storage Centers. Sovran Self Storage fared better in the first quarter, reporting a gain over the same period last year. The net income available to common shareholders for the first quarter of 2007 was $8.9 million or $0.44 per diluted share.
The net income available to common shareholders for the same period last year was $8 million or $.45 per diluted share. Sovran noted that rental rate growth was strong, but this gain was offset by higher operating costs and the impact of delays in acquiring properties. Sovran acquired 12 self-storage facilities for a total cost of $42.6 million during the quarter.
U-Store-It Trust reported a net loss of $3.4 million or $0.06 per share in the first quarter 2007, compared to a net loss of $1.6 million or $0.03 per share for the first quarter of 2006. Extra Space Storage reported an increased revenue and net operating income at 181 same-stores by 5.8 percent and 8.4 percent, respectively, when compared to first quarter 2006. The company also acquired four self-storage properties for a total cost of approximately $29.1 million, and it completed the development of two self-storage properties as part of a joint venture.
These self storage facilities can make for a great real estate investment, but interested investors should first learn more about the self storage industry as well as the market before making an acquisition or participating in a development deal.
— Nicholas J. Malagisi is the national director of Self Storage for Sperry Van Ness Commercial Real Estate Advisors.


©2007 France Publications, Inc. Duplication or reproduction of this article not permitted without authorization from France Publications, Inc. For information on reprints of this article contact Barbara Sherer at (630) 554-6054.