FEATURE ARTICLE, JULY 2012
THE AUCTION PARADOX
What's good for a down economy is even better for an improving economy.
By Jaime Lackey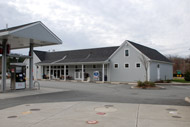 While auctioneers are helping clients dispose of all types of excess or underwater commercial properties, retail seems to be the most active property type at auctions today. Left: In February, 14 bidders wanted a retail/gas station in Dartmouth, Massachusetts. Tranzon Auction Properties closed the sale at $1.55 million.
One might think the increasing number of underwater properties would have led to record levels of commercial real estate auction activity during the recession. But auction activity is actually increasing more now that the commercial real estate market is improving.
As economic uncertainty has waned, there are more interested buyers now, which means that sale prices are improving. As values have improved, more non-distressed property owners and banks that have taken control of properties are willing to bring properties to market.
According to CoStar, $3.35 billion worth of commercial real estate properties were sold at auction in 2011, up from $2.52 billion in 2010. (These numbers do not include non-arm's length foreclosures or note sales.)
Tom Saturley with the Portland, Maine, office of Tranzon Auction Properties notes that other metrics are improving as well: "The number of inquiries we receive is up, the number of people attending auctions is up, and the comparison of appraisal values to sale prices has improved over the last year."
In the Northeast, Tranzon Auction Properties primarily works with corporations that have surplus real estate and financial institutions that are selling properties as a result of foreclosure or bankruptcy of borrowers.
"Interest in multi-unit income-producing properties is strong. However, interest in land is still lagging, depending on its location and zoning use," Saturley notes.
Richard Maltz of Plainview, New York-based auction firm David R. Maltz & Co. is seeing more retail properties go to auction than other property types. Some companies are choosing auctions to sell office and industrial properties, but few multifamily properties go to auction because the multifamily sector is so strong in the Northeast.
"For single-tenant properties, we tend to target end users as the best potential buyers because they tend to pay higher prices," Maltz says. "If the property is purchased by a landlord, the price has to be low enough that they can generate a profit. The end user does not need as great a value on the real estate side of the equation."
He adds, "For multi-tenant properties, we are seeing some institutional investors, and we're also seeing a lot of family-owned and -operated businesses that want to invest in real estate to capture better returns than are available via the stock market."
Matthew Bordwin of Melville, New York-based GA Keen Realty Advisors, a division of Great American Group, says that the glut of available properties has hampered the ability to auction bulk leases.
"This type of auction has historically been very popular with retailers," he says. "A major retailer in bankruptcy could shed 100 underperforming stores at auction and restructure. This is a good way for growing retailers to expand rapidly across a region. Investors were also interested in buying leases at one time. When they saw $5 leases for 50-year terms in markets where rents were $20, they purchased the leases and pocketed the spread."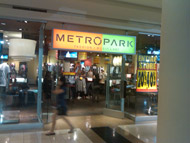 After just 14 days of marketing, GA Keen Realty Advisors auctioned 41 MetroPark leases, ranging from 2,000 to 3,500 square feet, to two retail companies for a total of nearly $1.66 million.
However, Bordwin isn't seeing as many sales of leases today. "There is a ton of retail on the marketplace so the ability to sell leases has declined dramatically. Not many retailers are expanding and there are lots of locations available. In the past, I could take a portfolio of 100 stores to auction and sell 70 leases. Today, I'm more likely to sell 25 or 30," he says.
However, retailers with solid locations can still attract interest. In early June, GA Keen auctioned 41 Metropark leases, ranging from 2,000 to 3,500 square feet, to two retail companies for a total of nearly $1.66 million after just 14 days of marketing. "The company had great locations within great malls. We successfully auctioned the leases because other retailers wanted to be in these malls and there were no availabilities," says Bordwin.
Who Goes to Auction?
"In the Northeast, there is this misperception that auctions are mainly for sellers in bankruptcy or foreclosures, but that isn't true," Maltz says. "The majority of properties that my company takes to auction are owned by private companies or individuals who are looking to sell properties quickly and move on; these are not distressed properties. The owners have equity but they are looking for a quick sale."
Often, however, sellers don't consider auction until a property has languished on the market, whether because of property condition or general lack of activity in the market. For example, in late December, Maltz represented a private seller in the auction of a 1.7-acre tract in Farmingdale, New York for $1.16 million — a bit more than the $800,000 to $900,000 at which Maltz had estimated the property would sell. The property had an intact 7,000-square-foot building and a 19,000-square-foot building that had been damaged by fire. The buyer planned to renovate the property for industrial use.
It has just been in the last few years that David R. Maltz & Co. has worked with non-distressed sellers. "Prior to 2005, our firm exclusively handled debt-related sales. It was too difficult to overcome the perceptions of auctioned properties as distressed and to explain the benefits of auctions to owners not under pressure to sell," Maltz says.
But now, Maltz counsels clients: "In a strong market, like 2006 to 2007, the majority of sellers are going to get more money for an auctioned property than if listed traditionally. In a recessionary market, you'll get the same price, and you'll likely get an expedited process and better terms. Usually an auctioned property sale closes in 90 days, as-is, with no contingencies."
But distress does still play a significant role in the auction industry.
Auctions actually help banks and borrowers to avoid the foreclosure process. "For example, an underwater borrower who is missing loan payments may agree to give back the title if the lender releases company owners from personal guarantees. We auction the property and quickly end the situation. The bank benefits from recouping some losses quickly rather than spending additional fees on bankruptcy proceedings and building maintenance," Maltz notes.
In the last 18 months, Maltz has also worked with several investors who have acquired debt on non-performing properties and either foreclosed or worked out an agreement with the borrower to sell the property.
Because carrying costs — additional fees for foreclosure proceedings, tax advances and lost use of capital — increase with every day that passes, an auction is often the most efficient and cost-effective exit strategy.
Auctions are generally a good solution to real estate issues that arise during bankruptcy proceedings, too.
"In bankruptcy situations, the court will not approve a sale until you prove you've reached the best price within an allotted time," says Bordwin. "What better way to establish current market value than an auction?"
Historically, GA Keen Realty Advisors has focused on bankruptcy, workouts, and restructuring situations. "We figure out how to maximize the value — usually in the shortest time. Often, an auction is the best means to maximize value quickly, particularly the way the bankruptcy code is written," says Bordwin.
And of course, auctions play well for REO situations. Saturley expects REO activity to pick up in the coming months: "Banks have a lot of inventory to work through. There are a lot of properties that need to be sold and need to become productive again.
Bordwin agrees: "Many people in the commercial real estate community expected more REO sales to correlate with maturing loans during the recession. Banks instead chose to amend and extend the loans. But we do expect to see more REO sales as the economy rebounds. I think many of those properties will come through the auction process."

©2012 France Publications, Inc. Duplication or reproduction of this article not permitted without authorization from France Publications, Inc. For information on reprints of this article contact Barbara Sherer at (630) 554-6054.