COVER STORY, JULY 2012
RENEWAL IN NEW ENGLAND
Redevelopment projects drive retail growth in Boston.
By Liz Burlingame

Major Boston development projects are progressing, with plans for new office and apartment buildings. This year, developers will begin revamping several of Boston's neighborhoods, which is expected to lure in more residents, retailers and shoppers.
One of the most visible changes is Boston's Seaport District in South Boston. Projects range from a pair of office towers across from the federal courthouse to a 21-story apartment and retail building at Pier 4.
Across town, construction is also pushing forward near the Rose Fitzgerald Kennedy Greenway. The new operators of Faneuil Hall Marketplace are considering opening a hotel along the historic shopping plaza, along with adding more restaurants. Ashkenazy Acquisition Corporation is working to transform the 18th century marketplace into a modern tourism destination.
Experts say that as development heats up citywide it will stimulate the local economy and enhance retail sales. The construction is also expected to attract local and national retailers while fueling retail development, says Jonathan Martin, vice president at Colliers International's Boston office.
Deals like the Vertex Pharmaceuticals' move are encouraging builders to restart delayed projects such as Seaport Square and Waterside Place. Vertex is leaving Cambridge and building 1.1 million square feet in two towers in the Seaport District.
"It's the largest privately funded construction project in the United States. With projects like that come retailers who want to plant their flags in an area where they know more people are going to be living and working," says Martin.
Moreover, retail vacancy rates are expected to drop this year due to job growth. Aggressive tax incentives are attracting companies to the market, particularly technology and pharmaceutical industries. Boston's unemployment rate is currently 6 percent, which is 2 percent lower than the national unemployment rate. And Boston employers are slated to generate 46,000 jobs in 2012, an increase of 1.9 percent from last year, according to a recent Boston retail report by Marcus & Millichap.
The improving local economy is expected to prompt national and regional chains to open more locations in established retail corridors within State Route 128. Retail vacancy rates in Boston are slated to drop 50 basis points this year to 5.8 percent, according to Marcus & Millichap. Last year, vacancy fell by 20 basis points.
Although the Boston retail market has certainly experienced its share of pain along with the rest of the country in recent years, its high barriers to entry and favorable demographics have helped keep the market relatively strong.
The region's hospitals, universities and financial institutions continue to generate steady population growth, says Martin. "You're seeing a very dynamic city with a cross section of various ethnicities, ages and incomes. That's always a good thing for a city and always a good thing for retail."
In the Pipeline
Nearly 1 million square feet of retail space came on line in Boston last year, according to Marcus & Millichap. But experts say retail-only construction remains rare. Many projects currently in development are mixed-use with a retail component.
"Mixed-use projects are easy to finance, especially if it has a multifamily component. When you look at the hottest sectors right now, multifamily would be number one," says Robert Horvath, president and director of the National Retail Group for Marcus & Millichap.
"If I'm a developer in a core location and I can go up, I'm putting multifamily in with retail at the bottom. It's a desirable asset and it's well diversified from a revenue stream standpoint," adds Horvath.
The Wilder Companies' management portfolio includes 284 Newbury St.,
a 4,000-square-foot retail property in the Back Bay neighborhood. Newbury Street
boasts some of the highest retail rents in Boston.
Earlier this year, Newton, Massachusetts-based New England Development finalized a deal to purchase Anthony's Pier 4 restaurant from the Anthony Athanas family. The company will launch a 1.1 million-square-foot, mixed-use project across the 1,000-foot pier.
Douglass Karp, executive vice president of New England Development, says infrastructure work is already under way and the groundbreaking is set for late fall. In the first phase, development partner Hanover Company will erect a 21-story apartment and retail tower on Seaport Boulevard. The company also plans to build a residential condo building and either a hotel or office building in the future.
Development in the Seaport District, which is largely composed of vacant land and parking lots, has begun to take hold in recent years, explains Karp. Several restaurant and retail tenants have also secured space in the area. Del Frisco's Double Eagle Steakhouse opened a location at the Liberty Wharf area last year, while Rosa Mexicano opened a 300-seat restaurant on Seaport Boulevard in May.
"The area has seen [an in-migration] of retail and restaurants, and it's a great draw in the summer because you're on the water," says Karp. "But these stores are still experiencing high volume in the winter months too."
Karp expects the company's three-building project at Pier 4 will provide 30,000 to 40,000 square feet of retail space. The apartment tower, set to open in the fall of 2014, will contain 380 units, retail stores and an underground parking garage next to the Institute of Contemporary Art.
More than 10 years of planning and permitting went into the Pier 4 project, says Karp. The company had also been waiting out the recession, but decided to start up again as the market for downtown apartment housing began to stabilize.
This year, an estimated 1,500 market-rate apartments will be added to the Boston market, and these residences are also luring retail tenants, says Martin. "Boston is a unique city, we have several colleges and universities, some of the best hospitals in the country and a great daytime population. What we haven't had, and what has been growing, are downtown urban residences."
In areas that primarily consisted of office properties, such as Boston's Financial District, new housing projects are giving the neighborhood a 24/7 feel. "Areas that had predominantly been Monday through Friday, 9 to 5, are now shifting to a more dynamic marketplace," says Martin. "It's become more attractive for restaurants and retailers who get a lot of their sales on nights, weekends and holidays."
Marcus & Millichap predicts an additional 1 million square feet of retail space will come on line in Boston this year, expanding retail stock by 0.6 percent. Horvath says many developers announcing projects are reviving centers that were on the drawing board prior to the downturn.
Among the projects under development this year is the massive Assembly Row complex in Somerville, Massachusetts, which broke ground in March following years of discussion and planning. The project is located 3 miles north of Boston and will create a mixed-use neighborhood of restaurants, outlet retail, office and residential space and a new stop for Boston's T subway.
AvalonBay Communities Inc. will construct and operate two apartment buildings in the first phase: AVA Somerville and The Avalon at Assembly Row. The project is the cornerstone residential component within Federal Realty Boston's overall master redevelopment plan for the 45-acre site. Federal Realty said it plans to include more than 50 outlet shops and a new AMC theater. The first phase will be completed by July 2014.
However, as projects shift into forward gear, there are fears that a potential wave of construction will amount to overbuilding. Martin explains that thousands of new restaurant seats are being added to downtown Boston, which could outpace the number of new housing units being delivered.
"The question is whether the city is going to be able to absorb all of these new restaurant seats," says Martin. "With rents, the cost of construction, labor and food going up, how are [restaurant tenants] going to be able to keep their profitability sustainable in the long-term?"
Bidding Wars
Investor demand for quality product for sale within Route 128 is expected to exceed supply, maintaining tight cap rates this year, says Horvath. REITs and institutional investors are likely to purchase properties at capitalization rates above 6 percent to help balance their portfolios and safe plays will remain an overall strategy for these buyers.
Grocery stores and drugstores, such as CVS/pharmacy and Walgreens, will continue to be a favorite target. "When you take assets like these to market in a great, core market like Boston, it's a bidding war," says Horvath.
Private buyers chasing higher returns will turn to stabilized shopping centers anchored by a national chain in densely populated suburbs, Marcus & Millichap reports. Properties with a solid tenant lineup will trade hands at cap rates in the low- to mid-7 percent range.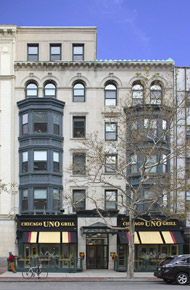 Earlier this year, Linear Retail purchased 727-731 Boylston St. in Boston's
Back Bay neighborhood for $4.92 million. The 4,479-square-foot retail
condominium is currently occupied by an Uno Chicago Grill restaurant.
It is the 12th Boston property in Linear Retail's portfolio.
Linear Retail, a Burlington, Massachusetts-based owner and operator of retail properties, recently purchased its 12th Boston property, a 4,479-square-foot retail condominium at 727-731 Boylston St. in the city's Back Bay neighborhood, for $4.9 million. Joel Kadis, partner of leasing at Linear Retail, says prime shopping corridors in the Back Bay, such as Newbury and Boylston streets, remain popular.
"In this area, retailers see demand 7 days a week because the Back Bay has a large office and residential population. It also has a tourist component," says Kadis. "These are all demand generators and that's why Newbury Street rents are so high."
According to Horvath, asking retail rents on Newbury Street are $80 per square foot and higher. "There are plenty of [Newbury Street] deals being done that are well north of $100 per square foot, but that's one of the strongest markets," adds Horvath.
Newbury Street, known for its luxury shops and historic charm, is home to major retailers such as Burberry, H&M and Converse. One of the city's most notable transactions in the fourth quarter of 2011 was Jamestown Properties' $182.5 million purchase of 21 properties totaling 181,569 square feet on or near Newbury Street. The portfolio was largely retail, but also included residential and office properties.
"They paid in the 4 percent cap rate range, which was unheard of," says Andy LaGrega, principal at The Wilder Companies. "No one ever thought they would see that again."
LaGrega adds that Newbury Street rental rates are among the highest in the Boston. However, retail rents citywide are beginning to move up. Market-wide, as vacancy rates decreased, operators were able to boost asking rents 0.8 percent in the last year to $21.25 per square foot, including an increase of 0.4 percent in the first quarter of 2012.
Effective rents rose in step with asking rents during the past year, growing 0.8 percent to a 3-year high of $19.01 per square foot, according to Marcus & Millichap.
Capital Flows
According to Marcus & Millichap, mortgage originations for all property types were up 46 percent in the second half of 2011 when compared with the same period the previous year. The increase was driven by higher activity among commercial banks and life insurance companies.
Funding for single-tenant assets with credit tenants is expected to remain plentiful this year. Lending rates for drugstore assets currently fall in the high-4 to mid-5 percent range, while loans for fast food and restaurant properties price 50 to 100 basis points higher. In the multi-tenant sector, lenders are loosening criteria on anchored Class A and B strip centers.
In certain neighborhoods, leasing velocity has picked up substantially, which is affecting retail supply, says Martin. In particular, inline space that was vacated during the recession is beginning to fill up as local retailers gain greater access to financing through local and community banks.
"The existing product has almost completely been absorbed since the higher vacancy numbers that we had in 2008," says Martin. "We're almost getting to the point where we have more demand than supply of quality product. That's in downtown Boston, Harvard Square, Central Square and Kendall Square."
Most of the leasing activity centers on the food industry, such as the quick-serve restaurants and coffee shops. Banks, meanwhile, have slowed their growth in the Boston area, says Martin.
"We do have a couple of banks — Capital One and TD Bank — that are still expanding and adding downtown branches. TD has completed a couple [of leases] this year and Capital One signed six or seven last year," says Martin.
David Salvage, senior director of real estate at Kimco Realty Corporation says many big-box retail tenants are "right-sizing" their concepts. Retailers, like those in the office supply and electronics industries, continue to downsize their footprints in favor of smaller models.
"Oversized locations hurt a tenant's key metrics, such as sales per square foot and occupancy costs," says Salvage. "Landlords need to be creative and flexible in certain situations. Knowing their market and competition is critical to these types of decisions."
Kimco is a REIT that owns and operates the largest portfolio of neighborhood and community shopping centers in the U.S. The company's long-term strategy is to upgrade the overall quality of its portfolio. For example, Kimco is redeveloping the 176,148-square-foot Webster Square shopping center in Nashua, New Hampshire, part of the Boston metropolitan statistical area. The company is currently constructing space for new tenants, including Trader Joe's, T.J. Maxx and Ulta. Salvage notes that the pace of leasing has been brisk at the property.
Kimco's strategy also includes selling non-strategic shopping centers and selectively acquiring high-
quality shopping centers in key markets. "We don't have any new development under way in Boston. Kimco is focused on stabilized assets and less on speculative, ground-up construction," says Salvage. "Our growth story in Boston is going to be made through the acquisitions of high-quality, stabilized assets."
The Pier 4 mixed-use project on the South Boston waterfront is expected to total nearly 1 million square feet, including more than
30,000 square feet of retail space. Experts say development projects in Boston are driving retail growth throughout the city.
Photo credit: Arrowstreet Inc.
The Wilder Companies, a Boston-based retail development, management and leasing firm, is another company seeking to acquire core assets, as well as value-add plays. The company's current management portfolio consists of more than 45 shopping center properties throughout the Eastern U.S. and Florida.
LaGrega says one of the company's strengths is re-tenanting properties to boost sales performance and the bottom line. To fill big-box space vacated by companies such as Borders Books & Music, Linens 'n Things and Circuit City, The Wilder Companies has undertaken projects to subdivide the retail space, to attract smaller specialty stores such as Anthropologie, Lululemon and The North Face.
At the company's Wayside property in Burlington, Massachusetts, LaGrega says the company has signed lease deals with the restaurant Seasons 52 and a national furniture chain for a space formerly occupied by Borders.
"We are taking what was once a Borders, that generated $4.5 million in sales [per year], and we expect now to generate $15 million in sales [per year] in the same space. Not only does that equate to higher rents, but also higher foot traffic that benefits the entire shopping center," says LaGrega.
"Boston is a very desirable market. Although we did have some impact from the recession, it didn't hurt as much as it did elsewhere," says LaGrega.
Salvage predicts positive momentum will continue in the Boston retail market. "Most tenants' balance sheets are strong and many are looking to grow within the market. Financing is also abundant," he says. "In my opinion, it isn't a question of whether the Boston marketplace will be good a year from now but rather a question of how good the marketplace will be."

©2012 France Publications, Inc. Duplication or reproduction of this article not permitted without authorization from France Publications, Inc. For information on reprints of this article contact Barbara Sherer at (630) 554-6054.