COVER STORY, JULY 2007
NEW ENGLAND RETAIL REPORT
Retail continues at brisk pace in New England.
Interviews by Stephanie Mayhew
In Northborough, Massachusetts, The Wilder Companies, along with New England Development and Brendon Properties, is currently developing The Loop-Northborough, a 1 million-square-foot mixed-use development that will include a 575,000-square-foot open-air lifestyle center.
Despite the departure of some May Company and Federated Department stores, the health of the New England retail market is obvious when one looks at the current leasing, development and sales activity. For example, according to research from KeyPoint Partner's Eastern Massachusetts/Greater Boston Southern New Hampshire Retail Reports, at the end of third quarter 2006, the total retail real estate inventory in Eastern Massachusetts was 178.5 million square, an increase of 2 million square feet from the same period the previous year. In Southern New Hampshire, KeyPoint noted that the total retail real estate inventory was 27.5 million square feet at the end of third quarter 2006, an increase of 924,000 square feet from the same period the prior year.
Retail activity and development can be a key indicator in regards to the health of a market. This month, Northeast Real Estate Business magazine sat down with a few retail experts to discuss the health of the retail industry in New England. Elizabeth Furnelli (EF) is vice president of Development for Columbia, South Carolina-based Edens & Avant, a company that owns, develops and operates neighborhood shopping places in primary markets throughout the East Coast with 30 properties totaling just under 4 million square feet in the Northeast. Robert Sheehan (RS) is the vice president of research at KeyPoint Partners, a Burlington, Massachusetts-based company that manages more than 13 million square feet of retail, office and industrial properties and leases approximately 7 million square feet of retail space. And, Michael McNaughton (MM) is vice president of asset management for Chicago-based General Growth, a REIT that owns, develops, operates and/or manages shopping malls in 44 states, as well as master-planned communities in three states.
NREB: How would you characterize retail development activity in your area this year?
EF: Retail development activity has been very strong, as demonstrated by the plethora of retail developments being planned or constructed in the area.
MM: It is brisk. In New England, General Growth works specifically in the regional mall environment; however, there has been a major influx of lifestyle and big-box or street development that has eroded a bit of the customer base by offering more alternatives to the public. It can be a challenge to keep malls relevant. Developers and owners have to integrate new experiences to compete with retail destinations that might be more convenient for day-to-day shopping.
NREB: Michael, you mentioned the competition regional malls are facing, how do you see the market for enclosed malls changing?
MM: The mall industry is evolving. The most recent issues with department stores, specifically the loss of May Company and Federated, have dramatically altered the line-up of how a mall is shopped from a competitive prospective. What the owners of regional malls are forced to do is identify opportunities and redeploy that square footage for alternate uses, whether it is for entertainment, restaurants or additional malls shops. Also, the regional mall business as a whole, given the alternate styles of development that are occurring, is at a crossroads. The good malls will get better and the more challenged malls will struggle to survive. Retail real estate is the most capital intensive of all asset classes when compared to office, industrial or residential because with retail real estate you really have two customers — the tenants which need a vibrant, compelling reason to put their business in your shopping center versus others, and you have the customers, who also are looking for experiences and convenience and embrace a certain lifestyle. So, you have two groups that you are trying to woo as opposed to a more passive investment like office. If landlords of retail real estate are not constantly seeking reinvention or integration of new compelling opportunities, whether they are experiences or retailers, they will lose their base to the next best project.
NREB: How would you characterize retail leasing activity in your area this year?
EF: Leasing activity is very robust and demand continues to be strong due to high barriers to entry.
MM: In the Northeast, 2006 was a banner year for General Growth. Production was up nearly 40 percent, and overall, the retail community was very bullish and growth has continued.
NREB: How would you describe the investment sales activity in your area?
EF: Very good. In 2006, Edens & Avant set a record sales volume of $14 billion, and we are slated to exceed that number in 2007.
NREB: What retail markets (or submarkets) have grown in the past year and which markets are poised for growth in 2007/2008? Why?
EF: Urban redevelopments and the Seaport District area of Boston are poised for growth. There have been several office and /or industrial buildings converted to mixed-use centers. In addition, there has been growth in secondary infill markets where opportunities exist to create value.
RS: Boston, Providence and Southern New Hampshire have all grown and are anticipated to continue on a steady path.
In Natick, Massachusetts, General Growth is redeveloping and expanding the Natick Mall. Once completed on September 7, 2007, it will total 2 million square feet and feature six department stores, fine dining and a luxury line-up all under one roof. It will be one of the largest centers in the country and is projected to be one of the top 10 centers in the United States by several rating houses.
MM: Natick, Massachusetts, Providence, Rhode Island, and Portland, Maine, in terms of regional malls, are becoming more dominant. Portland is a phenomenal market and continues to exceed the expectations of retailers that we bring to that area. Providence Place is a phenomenal project and is really a text book study of urban renewal in terms of what that project has done for the revitalization of Providence. General Growth recently announced a Tiffany deal in Providence, and we continue to ratchet the merchandising there. With every new brand and every new tenant we add, we exceed their expectations in sales projections because the project has such a large draw from southern Massachusetts and Connecticut, plus all of Rhode Island. In Natick, with the commitments from Neiman Marcus and Nordstrom, the hotel, the condominiums and the luxury line-up, General Growth was able to fill a missing niche in that area. Our research, as well as Neiman's and Nordstrom's research, shows that the Natick trade area is the second most affluent trade area in the U.S. From a per capita perspective in terms of affluence, education and discretionary income, it is a super premium market.
NREB: What retail markets (or submarkets) are struggling? Why?
EF: Markets that have poor access and flat population and income growth are not doing as well.
MM: There are not any specific locations that are struggling, but population growth is relatively flat in New England, which can inherently be a struggle for viability as a whole. In an area with a flat population curve, continued growth in the retail competition and new centers being added without new people being added, the struggle lies in the ability to stay relevant to the customers.
NREB: What types of retail properties are hottest in the New England Market? Why?
EF: The hottest retail assets are stabilized assets, redevelopment assets, mixed-use and development opportunities.
RS: Lifestyle centers and hybrid centers are becoming increasingly popular in the market to meet the pent-up demand from consumers.
MM: In a regional mall setting, any project with a Neiman Marcus, Nordstrom or Bloomingdale's is typically the most sought after because they speak more to a customer environment. Specifically in the Northeast, people gravitate toward centers where they can spend an entire day of shopping coupled with dining and entertainment.
NREB: What types of retail properties are struggling in the New England Market? Why?
EF: Retail properties in secondary or tertiary markets with little growth and where demand and income levels are lower are struggling.
RS: Anchorless shopping centers have begun to struggle and are now being seen as risk adverse by developers and investors.
MM: There have been dramatic changes in the grocery industry and the older, smaller format, grocery anchored centers will continue to struggle. The traditional, 30,000-square-foot neighborhood grocery store has been outsized and we are seeing either the 10,000-square-foot Trader Joe's in very select key areas or 65,000+ square-foot one-size-fits all gourmet grocery stores with option such as ready-to-eat meals. As the competition and people's expectations changes, the ability of a 30,000-square-foot grocery store to compete dwindles. Now leases are turning and operators are moving to larger and more accessible locations and leaving those stores behind. The ability to reinvent a project in its existing configuration is extremely difficult. Grocery operators have to continue to stay relevant much like the mall industry to continue to woo customers.
NREB: What retailers are most sought after? Why?
EF: Retailers that are good credit tenants that will drive trip volume and create an experience for the customer, as well as offer a more eclectic mix depending on the type of center are the most sought after. Developers should also look for a combination of retailers that create a synergy that ensures the longevity and viability of a development. In addition, restaurants and entertainment uses that lengthen the time spent at the center is key to the success of a project.
RS: Specialty retailers such as Chico's, Coldwater Creek, Talbot's, Dick's Sporting Goods, L.L.Bean, Kohl's and Target are all highly sought after lifestyle and hybrid center prospects.
MM: Currently, there is a shift from value to label. Not specifically luxury, but higher-end fashion conscience label shoppers and the proliferation of fashion houses coming up with new concepts have pushed consumers to be more aware of labels. There is a lot of new creative invention going on with retailers such as J.Crew, American Eagle and Abercrombie & Fitch. Many of the retailers are coming up with new brands and developing new concepts, so it is really an exciting time to be on the leading edge of participating in and partnering with these retailers to unroll these new concepts. In each of those cases, they are at a higher price point than the core store, so, the retail community is raising the per visit price. Also, brands such as Gucci, Ferragamo and Tiffany are at an all time high in terms of their willingness to expand. While the value priced mind-set still exists, the regional malls are moving in a different direction away from the value oriented big-box opportunities.
NREB: What retail trends do you think have or will emerge in New England in 2007?
EF: The New England area will continue to see more mixed-use projects, and there will be more of a focus on green design and the use of public spaces. Retailers will also begin to offer more health conscious food options and focus on increased Internet sales. The market will also see the consolidation of more real estate companies and the continued globalization and investing from outside the U.S. Retailers will also begin to focus more on the importance of programming events and creating an experience for the consumer, as well as focusing on the ease of access and the convenience of the shopping experience for customers in order to give people a reason to visit a center for needs beyond just shopping.
RS: Lifestyle centers will continue to be popular among developers and consumers.
MM: I think convenience is going to be the key. With gas prices on the rise, people will need to be able to go to one place and fill all of their needs. For example, General Growth is looking at opportunities to add grocery stores to its malls in order to cater to people's busy lifestyles. Concepts such as these help General Growth's regional malls stay relevant, exciting and different.
NREB: What are your predictions for the New England Retail Market for the remainder of 2007 on into 2008?
EF: New England will continue to be an exceptionally strong market.
RS: The market will remain healthy, but Nordstrom's entry into Boston could change the shopping habits of customers in the market.
MM: Competition is not going to go away and there are excellent companies out there doing really creative things, so if companies are not ready to compete in order to stay relevant, they will struggle. In addition, international opportunities will be the next big thing in New England retail. General Growth has been meeting with European retailers that are looking at the states for either more growth or to open their first store. General Growth has already had a lot of success in the Northeast with European retailers, especially in New York and Boston, and it is focused on increasing its international portfolio in terms of bringing retailers that are new to the states and the Northeast.
Nashua Landing
Located just 35 miles from Boston, Nashua, New Hampshire, has become an extension of the Greater Boston retail market, luring residents from Massachusetts with the promise of tax-free goods. New England Development, along with Packard Development and W/S Development, is capitalizing on this growing sector with the development of Nashua Landing, a 600,000-square-foot lifestyle center. Anchored by the first Whole Foods in New Hampshire, the project will feature specialty shops and restaurants, plus a premier theatre. The project is expected to break ground this fall with completion scheduled for 2009.
— Stephanie Mayhew
Gloucester Crossing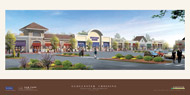 The Wilder Companies, in partnership with Sam Park & Company, is developing Gloucester Crossing in Gloucester, Massachusetts. The mixed-use project will feature a 200,000-square-foot, open-air retail center, as well as a residential component and a hotel. Located along Route 128 at Blackburn Circle, the new retail center is situated to serve the Cape Ann and North Shore communities. The center is scheduled to open in 2008.
— Stephanie Mayhew
Seaport Square
Gale International and Morgan Stanley Real Estate are currently developing one of Boston's newest mixed-use developments, Seaport Square. Located on 23 acres of what is one the largest undeveloped sites adjacent to Boston's Central Business District, the parcel stretches from the Evelyn Moakley Bridge along Seaport Boulevard to the World Trade Center and the new convention center. Chestnut Hill, Massachusetts-based W/S Development was recently selected to develop the retail, entertainment and dining component of the mixed-use project. Aside from the retail component, Seaport Square will contain a mix of residential, office, hotel, educational and cultural uses.
— Stephanie Mayhew
Regional Strengths Will Help Retail Weather Shakeout
Retail finance trends indicate that we have entered a transitional period of short-term pain followed by long-term gain. After a long spell of eager capital, rating agencies are tightening underwriting criteria. Spreads are wider today than a year ago. The pattern is occurring in all asset classes, not just retail. Some retailers and developers will experience discomfort before conditions restabilize, but there will be pluses. Also, when standards tighten, owners are better able to absorb potential losses. It's also worth noting that while standards are stricter, the supply of capital isn't diminishing. Owners will not be handing back the keys so readily due to the lack of cash flow to cover debt service. Another positive is the continued success of specialty and higher-end stores like Coach and Ralph Lauren. Along these lines, investment columnist Andrew Lackey recently praised Saks for selling off two lower-price divisions in 2005. While not declaring a "complete turnaround," he applauded the "renewed focus on [the] upscale Saks." In spite of widening spreads – and despite some regional closings by Circuit City and others – New England still boasts many retail bright spots. Hedge fund affluence keeps Greenwich-area retail vibrant and Berkshires and Cape Cod vacationers keep buying Prada bags and Ferragamo shoes. In addition, the dollar is very weak compared with the Euro and British pound, so European tourists get tremendous value with each purchase. And with new lifestyle centers and boutique shops, Boston's Beacon Hill is starting to resemble such retail hot spots as Manhattan's SoHo and Bleecker Street. In summary, not all is bleak but be ready to steel your way through a shakeout.
— Angela Mirizzi-Olsen, executive VP of Meridian Capital Group.
©2007 France Publications, Inc. Duplication or reproduction of this article not permitted without authorization from France Publications, Inc. For information on reprints of this article contact Barbara Sherer at (630) 554-6054.