NORTHEAST SNAPSHOT, JANUARY 2007
Hartford, Connecticut
Comparable in size to Boston, the Hartford, Connecticut commercial real estate market has often lagged behind its Northeastern neighbors in growth. However, due to its strategic location between Boston and New York City, its availability of large blocks of developable land, its dense population and high disposable incomes, this market is poised for improvement. During the last several years, the development in the Hartford commercial real estate market has been limited to multifamily, retail and entertainment development, which has primarily been financed through state subsidy programs. Office development has been virtually nonexistent since 1989 due to the economy's inability to support it. Currently, the average rental rate for Class A space is $22 to $26 per square foot on a full-service basis with Class A vacancy rates sitting at approximately 18 percent. However, Class A vacancy rates in the eastern and western Hartford submarkets are hovering in the single digits, signifying that the market may be ready for new construction. Another key factor signaling possible office construction is the current absorption activity. St. Paul Travelers, an insurance firm, has leased a total of 400,000 square feet at StateHouse Square and One Financial Plaza in Hartford's Central Business District (CBD). Considering the fact that Hartford only has approximately 6 million square feet of space available to lease, this was a significant transaction for Hartford's office market.
In Hartford's CBD, the majority of the activity taking place is the renovation of older buildings into multifamily properties. Northland Investment Corporation redeveloped the former Hartford Civic Center into Hartford 21, a 35-story luxury condominium tower. The 252-unit condominium contains one- and two-bedroom residences that range in size from 730 to 2,000 square feet, plus four penthouses. The $160 million project, which was completed last quarter 2006, also includes office, retail and restaurant space. Another renovation taking place in Hartford's CBD is the conversion of the former Sage Allen department store into 18 Temple Street, a 102-unit apartment building. The project, developed by 18 Temple Street LLC, will contain studio apartments, a 311-space parking garage and 12,000 square feet of retail space.
Two other major developments currently underway in the area are Blue Back Square, a 600,000-square-foot mixed-use project in West Hartford Center, and Front Street, the redevelopment of downtown Hartford's historic district. Blue Back Square, developed by a partnership between Street-Works, JDA Development and Ronus Properties, will offer new places to live, work, dine and shop within the city of Hartford. The development contains The Heritage, a 62-unit luxury condominium building. The building offers one-, two- and three-bedroom units and ground-level retail. In addition, Blue Back Square features Class A office space at The Lexicon at West Hartford Center and medical office space at The Hartford Hospital Center for Wellness. Retailers such as Carte & Barrel, Whole Foods, Barnes & Noble and Criterion Cinemas are also included in the mixed-use development.
After several years of false starts and set-backs, the Front Street mixed-use development is finally underway downtown. Situated between Columbus Boulevard, Prospect Street and Whitehead Highway and adjacent to the new convention center, the project will include approximately 200 residential units and 150,000 square feet of retail space. The HB Nitkin Group, which is developing the project, is also one of Hartford's newest developers. Based in Greenwich, Connecticut, the company has developed a large number of real estate properties throughout the state including Cromwell Square, a 215,000-square-foot retail property in Cromwell, and Greenwich Financial Center, an 80,000-square-foot office building that was recently renovated in downtown Greenwich.
The future of Hartford's real estate market appears to be positive for retail and residential development as Hartford's main projects are focused on new retail services, restaurant venues and multifamily developments. Although these developments contain very few components, the insurance and financial services firms stabilize after years of mergers and acquisitions, the office market should experience continued growth leading to additional absorption and possible new construction.
— Jay R. Wamester is a principal at Colliers Dow & Condon.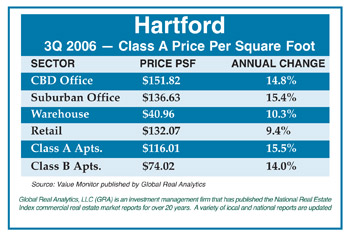 ©2007 France Publications, Inc. Duplication or reproduction of this article not permitted without authorization from France Publications, Inc. For information on reprints of this article contact Barbara Sherer at (630) 554-6054.