MARKET HIGHLIGHT, JANUARY/FEBRUARY 2012
NEW JERSEY
Northern New Jersey Industrial
Tillsley
Northern New Jersey's industrial market vacancy rate is hovering below double digits, having ended the third quarter of 2011 at 9.5 percent, thanks to 1 million square feet of positive absorption in the period, compared with approximately 2 million square feet of negative absorption during the first half of 2011.
The Northern New Jersey industrial market spans 11 counties and comprises 812 million square feet of inventory. Vacancy rates are unevenly distributed, with Mercer County at nearly 18 percent while the western Essex County market is a touch over 6 percent vacant.
The submarket with the greatest amount of recent activity was Meadowland, with eight new lease transactions and three property purchases by users in buildings larger than 100,000 square feet. Meadowland activity helped fuel the overall recovery of the northern and central industrial markets. Strikingly, through the first three quarters of 2011, there was more cumulative leasing velocity than the year-end totals of the previous 4 years. This is certainly a positive trend. However, with 77 million square feet of available industrial space in the north alone, there is still quite a long way to go to reach marketplace equilibrium.
Rental rates remain below peaks seen in 2006 and 2007, and property owners who hold out to attain high prices are most likely to have available space. Rents range from the high $6s per square foot in western Essex County and Bergen County (which has almost 9 percent of the total industrial inventory in Northern New Jersey) to the lows of approximately $4 per square foot in Mercer County and the Brunswick area. For the state of New Jersey, the average asking rate for industrial property is approximately $5.25 per square foot.
Investor/user activity increased in 2011 and drove sales prices higher for the year.
The average asking rate was above $53 compared to an average price of $48 and change in 2010. These prices are still quite a bit below where they were at the peak of the market and have been mostly declining since the first quarter of 2009 when the average asking sales price was in the high $80s per square foot.
Currently there is 600,000 square feet under development; 275,000 square feet of this space was preleased. With a good bit of quality space recently absorbed, a few developers are kicking the tires and looking at deals. However, until there is a clearer view of the overall economy and investor confidence, a wave of speculative development is unlikely to occur anytime soon.
The largest deal in 2011 was the 1 million-plus-square-foot deal that Wakefern Food signed in Union County. Next was the lease signed by I/O Data center for 830,000 square feet in Brunswick, while Synnex Corporation completed a deal at Middlesex Center Boulevard encompassing 600,000 square feet.
There's a hint of optimism in the air for 2012 based on fourth quarter 2011 tenant activity. For example, we're marketing a building that is nearly 200,000 square feet and we have shown the property in recent weeks to four companies, each of which requires more than 100,000 square feet of industrial space. While the activity is promising, even if all four of these firms complete a transaction somewhere in Northern New Jersey it will only put a nice dent in the vacancy rate.
To sum up the market and to paraphrase Noah, the rains may have stopped but we haven't landed on dry ground yet.
— Robert Tillsley, president, National Services, McBride Corporate Real Estate/
CORFAC International based in Franklin Lakes, New Jersey
Newark Office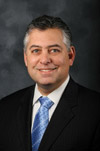 Stifelman
A clear dichotomy within the Newark office market heading into 2012 tells a tale of two cities. And with an incredible number of moving parts, an interesting story is likely to unfold there over the next 6 to 9 months.
Newark's 13 million-square-foot office inventory is evenly split between Class A and Class B product, with a divide in performance that correlates directly to quality. The latest data from Cushman & Wakefield's research team puts the Class A vacancy rate at an impressive 8.9 percent, with rental rates in the high $20- to low $30-per-square-foot range. On the other hand, the Class B and C vacancy is above 20 percent, with rents starting in the high teens.
CBD market fundamentals reflect a notable geographical division as well. To the south, the Gateway neighborhood is enjoying a sub-5 percent vacancy rate. However, the northern Broad Street market is struggling. The IDT Building, 520 Broad, is all but shuttered. Verizon tried to sell 540 Broad but had no luck (so continues to occupy the property).
Of course, there are exceptions. Heritage Management has done well at 550 Broad, with IDT backfilling a large amount of space there. The Berger Organization has had decent activity at 60 Park Place, largely because that property caters to smaller tenants. Berger recently acquired 570 Broad, which could give that building a boost. Additionally, 744 Broad Street is slated to come out of receivership soon, with a new owner and an infusion of capital.
Then there are the dark horses: developments that could alter the Newark landscape considerably. Prudential, which maintains a major presence at Gateway and other properties, recently announced its desire to build a modern, state-of-the-art headquarters in the city. While Newark would retain its biggest tenant, this move would leave the Gateway neighborhood scrambling to fill space. The State of New Jersey has committed to attractive incentives for the project, but Prudential has not yet settled on a final plan.
Additionally, in early 2011, Panasonic announced its intent to relocate its North American headquarters to a new, 14-story, LEED-certified building in Newark. While the new tower and its tenant will not absorb any vacancy, the bold move by a major corporate user to commit to Newark is a stamp of approval on the city and likely will create a positive ripple effect. Still, the size of that ripple remains to be seen.
Ultimately, companies that want to attract top talent moving forward know that they need to be near mass transit hubs and need to be connected. Newark has an outstanding transportation infrastructure and one of the best communication networks on the East Coast. That bodes well for its future.
Yet with so much movement — who's coming, who's leaving, who's building and who's not — nobody can predict with certainty what will happen in the short term. It may well be that Newark has to take a couple of steps back before it can go forward. We can say for sure, however, that 2012 will be a pivotal year for New Jersey's largest city.
— David Stifelman, executive director of Cushman & Wakefield's East Rutherford, New Jersey, office
Multifamily
Multifamily properties will remain the most sought-after asset class in 2012, due to low vacancy rates and ample availability of historically low debt capital. In fact, rising blue-collar employment in Central Jersey, combined with relocations to Northern New Jersey by residents priced out of Manhattan will reduce vacancy to the lowest level in 5 years. Many renters will migrate to Hudson County, where rents are 30 percent below comparable units in New York City. As tenant demand intensifies, vacancy in the region will drop to its pre-recession level, supporting owners' efforts to advance rents to historical highs. In Central Jersey, the trade, transportation and utilities industry will generate more than 2,000 jobs this year, helping support the creation of 4,000 new households. As a result, the Class B/C rental pool will expand, allowing the region to record the tightest vacancy rate in the state. However, developers will complete the most units since 2007, applying pressure to vacancy in the coming years.
Lower prices and increased upside have accelerated construction and will draw out-of-state, private investors to New Jersey, while owners will take advantage of the healthy bidding climate to list assets. Class A complexes will garner significant attention, pushing cap rates below 6 percent. Sought-after areas in Northern New Jersey with public transportation access to Manhattan will attract well-capitalized buyers from New York City searching for higher yields. Elsewhere, investors looking for steady income streams will acquire performing properties near major demand generators such as universities and employment centers in Central and Southern New Jersey. Opportunities will arise in Middlesex, Mercer and Camden counties, where a renter pool of more than 130,000 students will support long-term demand.
Predictions for 2012
• New Jersey will gain 46,000 jobs this year as employers expand payrolls by 1.2 percent. Last year, 21,000 positions were created.
• Builders will deliver 2,600 units statewide in 2012, with 1,100 units slated for Northern New Jersey and 800 apartments expected to come online in Central Jersey. These multifamily fundamentals have created opportunities for developers to pursue fair-market rental development and capitalize on urban markets attached to New York City as well as urban markets and transit hubs.
• Solid employment growth and a stagnant housing market will drive demand for rental units. As a result, vacancy will fall 40 basis points this year to 3.4 percent, after plunging 90 basis points in 2011.
• Operators will raise asking rents 3.1 percent this year to a peak level of $1,364 per month, while effective rents will spike 4 percent to $1,322 per month.
• Local syndicates will pay cash for distressed lower-tier properties in Union and Essex counties with plans to reposition within 12 months. Once properties demonstrate positive performance, owners hope to refinance the asset with debt from community banks.
• As transaction activity accelerates in the multifamily sector, owners will strategically sell off their management-intense assets and execute 1031 exchanges for single-tenant net-leased assets.
— Michael Fasano is the vice president and regional manager of the New Jersey office of Marcus & Millichap Real Estate Investment Services.
Retail
2012 looks like it will be a good year for retail real estate in New Jersey. We have seen considerable leasing of retail space the last half of 2011 and this is a trend that appears to be continuing. Many factors are contributing to this: the economy seems to have somewhat stabilized in 2011 and the result is that retail space is finally leasing up, especially some of the larger big boxes that stood vacant for over 2 years.
In Northern and Central New Jersey, we have seen numerous spaces lease up and many tenants are taking advantage of low rental rates that are 15 to 20 percent less than they were 4 years ago.
New Jersey, with its strong demographics, continues to do much better in retail space leasing compared to the majority of the U.S. New Jersey's vacancy rate, which has been monitored closely by The Goldstein Group for the past 6 years, has continued to show a vacancy rate of 8 percent, on average, compared to the national average of 13 to 15 percent. In Northern and Central New Jersey, the majority of the larger retail boxes, such as former Linens 'N' Things, Borders Books and Comp USA, have been leased up by many large retailers attracted by favorable rental rates. Large tenants, such as Harbor Freight and Tools, Joanne Fabrics, Hobby Lobby, and Dick's Sporting Goods leased some of these sites.
We don't anticipate any significant new construction of retail space in New Jersey, due to all the existing space that is available. There are a few significant projects under way, such The Point at Sayreville, a mixed-use project with 2.2 million square feet of retail space. Tucker Development is developing The Springfield Marketplace, a 120,000-square-foot retail site in the heart of Newark. Tucker is also leasing its Hudson Lights project in Fort Lee. This soon-to-be-built, 185,000-square-foot retail project will be adjacent to the George Washington Bridge.
Many new restaurants such as Joe's Crab House, Anthony's Coal Fired Pizza, Quaker Steak & Lube, Miller's Ale House, and Margarita's Mexican Restaurant have opened New Jersey locations, or are under construction to open soon. Fast casual restaurants, such as Smashburger and Five Guys Burgers are expanding rapidly in New Jersey. Self-serve frozen yogurt and ice cream shops have become the "new kid on the block" and are very popular. Brands such as TCBY, Cups, Twist, Red Mango, and Yogurtland continue to open new stores.
Health clubs continue to expand at a very brisk pace. Planet Fitness, The Edge, 24 Hour Fitness, LA Fitness, and Retro Fitness all opened new locations this year and their plans are to continue opening new locations in 2012. Equinox Fitness, a New York-based high-end fitness club, will be opening its first location in New Jersey in Paramus.
The momentum that started in the last part of 2011 appears to be carrying strongly into 2012. We've been bolstered by the better-than-expected 4.5 percent boost in Christmas sales this last holiday season. With consumer confidence inching upwards, as well as the unemployment levels beginning to drop slightly, all are contributing to New Jersey's retail economy bouncing back at a pretty good pace.
— Chuck Lanyard, president of The Goldstein Group in Paramus, New Jersey

©2012 France Publications, Inc. Duplication or reproduction of this article not permitted without authorization from France Publications, Inc. For information on reprints of this article contact Barbara Sherer at (630) 554-6054.