COVER STORY, JANUARY/FEBRUARY 2011
RETURN ON APARTMENTS
Demand for multifamily investments is growing and values are beginning to appreciate.
By Jaime Lackey
Although the multifamily sector saw some rent loss and vacancy increases during the recession, apartments have a lot going for them. Fannie Mae and Freddie Mac have continued to create stability on the finance side. Year-to-year leases mean that rent loss has been realized, and rents began to show modest gains in the second half of 2010. Small rent increases should continue in many markets through 2011. In most Northeastern metro areas, barriers to entry keep apartment supply in check, keeping tenant demand high. As a result, investor demand outpaces the number of properties on the market, and apartment property values are showing appreciation.
"We are in the early stages of recovery. We are clearly moving forward, but the recovery is fragile," says Robert Knakal, chairman and founding partner of New York City-based Massey Knakal.
According to Knakal, the industry should continue to monitor some threats to the recovery, including interest rates. "If the cost of borrowing goes up, values will drop," Knakal says. He notes that interest rates increased after the Federal Reserve's second round of quantitative easing — which was engineered to keep rates low.
Richard Robinson agrees that interest rates are the key factor in the 2011 commercial real estate market. "We are watching interest rates to see what the effect will be on cap rates over the long term. While interest rates did increase a little, they settled back and I expect them to be relatively stable this year," says Robinson, a principal with the Boston office of Apartment Realty Advisors.
"We've been helped significantly by the interest rate environment, and I think the worst is over," says Nat Gambuzza, vice president of investments with the Elmwood Park, New Jersey, office of Marcus & Millichap.
Specific to multifamily markets, Gambuzza notes, "Rents have stabilized, and employment growth should help rents grow."
Because of the stability and anticipated rent growth in the sector, multifamily is the preferred asset class for many investors coming out of the recession. In particular, Gambuzza says, Section 8 housing is attracting a lot of potential buyers. "There are more of these government-subsidized properties coming to market today. They are generating a lot of attention from risk-averse investors, who like that the government is covering part of the rent."
There are a few more hurdles for multifamily to overcome, though. Aside from interest rates, Knakal also warns that state budget deficits could impact the real estate market if they result in increased real estate taxes. "In New York, the governor has said he will cap property taxes and create no new taxes, but that will be difficult," he adds.
New York City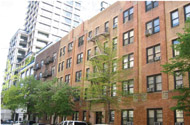 Two five-story apartment buildings located on East 88th Street in Manhattan's Upper East Side sold for $15 million.
Demand for investment properties in New York is always highest in the multifamily sector because rent regulations eliminate downside for the properties, Knakal says. "New York City has 3.3 million dwelling units; 1.4 million of these are rent regulated. It is very rare for someone to move out of a rent-regulated unit, so the supply is essentially constrained to the 1.9 million non-rent-regulated units."
At the worst part of the recession, occupancies in New York City were still 97 to 98 percent. "We never saw weak demand from tenants," Knakal says, though rents did decrease and landlords competed for tenants with concessions.
Today, concessions are evaporating. Two years ago, it was common for building owners to offer 1 to 2 months' free rent, but that is a rare occurrence now. Additionally, less than half of landlords are willing to pay brokers to find tenants today, Knakal says.
In Manhattan, elevator buildings are selling at the mid- to high 4 cap rates, with walk-up properties in the mid- to high 5 range. Across northern Manhattan and the boroughs, cap rates range from mid-6 percent to 7 percent.
In November, Massey Knakal closed on two elevator buildings at 524-534 East 88th Street. The two buildings contained 73 apartments and sold for $15 million, which represented a 4.25 percent cap rate.
In terms of distress within the multifamily sector, very large properties with CMBS financing have suffered more than any others. "These properties had the most aggressive rent growth underwriting and the highest loan-to-value ratios," Knakal says. "For the most part, multifamily lending [in New York City] is done by community or small regional banks, which are generally very conservative with LTVs. Typically, buyers are expected to invest 40 to 50 percent equity and so there have been few distressed loans."
In 2011, Knakal expects vacancy rates to remain low and cap rates to maintain at marginally positive leverage, slightly above the cost of borrowing.
Northern New Jersey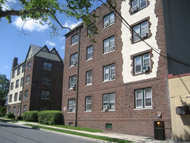 A 41-unit property at 17 West Englewood Ave. in Teaneck, N.J. sold for $4.28 million.
In northern New Jersey, investor demand for multifamily properties outpaced supply during the recession. As the economy has begun to stabilize since mid-2010, even more investors have shown interest in the New Jersey multifamily market and prices have appreciated a bit, says Gambuzza.
In late September, Marcus & Millichap brokered the sale of Fresh Ponds Village in Brunswick, New Jersey. There were more than 30 offers on the 120-unit property, which drove the sales price to $15 million, which was $1 million above the asking price.
In fourth quarter 2010, Marcus & Millichap also brokered the sales of two Bergen County, New Jersey, properties, which sold at 6 percent cap rates. A 41-unit property in Teaneck sold for $4.28 million and a 20-unit building in East Rutherford sold for $2.3 million.
According to Gambuzza, most of the investment activity has been in the $1 million to $6 million range. "Larger properties are just starting to come to market," he says.
Although rents did drop about 10 percent during the recession, the fundamentals for New Jersey's apartment market are showing improvement. Concessions are burning off. Vacancies have dropped to an average of 5 percent across the northern part of the state and landlords are starting to see modest rent growth.
Gambuzza believes the multifamily market will maintain the appreciation in prices that have occurred since mid-2010. "However, we will not see record growth in 2011 without significant employment growth," he says.
Boston
Boston ranks among D.C., Dallas and San Francisco as one of the top multifamily markets in terms of investor demand, according to Robinson.
"Unemployment has dropped from 9 percent to 8.2 percent, which is good relative to the national numbers," Robinson says.
The rental demographic is growing at both ends. Baby boomers are selling their large homes and renting closer to the city. More and more college grads are sticking around after graduation, increasing the Gen X renter demand.
Boston's multifamily vacancy rates have shown improvement compared to 2009 levels. Vacancies range from 5 to 6.5 percent, depending on the submarket.
In metro Boston, apartment rents saw a slight decline of 1.5 to 2 percent during the recession. Historically rare concessions reached up to 5 weeks' free rent, but have essentially disappeared and rents are beginning to increase. Class A suburban property rental rates average $1,600 to $2,100 per month. Class B suburban properties average $1,000 to $1,200 per month.
Development remains slow. Approximately 800 units were constructed in 2010. Robinson expects three to four projects totaling 1,600 units to start in 2011.
These stats paint a comfortable picture for Boston in 2011. Robinson predicts average rents will grow 5 percent or more this year, which is in line with the 20-year average for rent growth.
According to Robinson, cap rates have been dropping since mid-2009. In the first half of 2009, Class A properties in New England were trading at 6.3 to 7.3 percent cap rates. By the second half of 2010, these cap rates had dropped to the 4.2 to 6.5 percent range. For Class B properties, the cap rates dropped from the 7.5 to 8.29 percent range in early 2009 to the 6.9 to 7.6 percent range in late 2010.
Examples of recent investment sales include Park Lane, a 465-unit property in the Seaport section of Boston, which sold for $197 million in December, and Garrison Square, a 160-unit property in Boston's Back Bay, which sold for $98 million in September.

©2011 France Publications, Inc. Duplication or reproduction of this article not permitted without authorization from France Publications, Inc. For information on reprints of this article contact Barbara Sherer at (630) 554-6054.