MARKET HIGHLIGHT, FEBRUARY 2009
PITTSBURGH MARKET HIGHLIGHTS
Pittsburgh Industrial Market
The Pittsburgh industrial market remains steady despite erosion of the national economy. While building absorption hasn't matched the torrid pace of 2007, more than 1 million square feet of positive absorption occurred in 2008. This level of activity is consistent with prior years and reinforces that Pittsburgh delivers consistent results. As of third quarter 2008, the market-wide industrial vacancy rate was 7.1 percent, which compares favorably to the 7.7 percent vacancy rate posted in fourth quarter 2007 and exemplifies the stability of the region.
The current financing environment is slowing new speculative industrial development, which poses a problem for companies desiring to lease high quality, existing product. Industrial companies seeking to purchase existing buildings have limited options and this supply/demand imbalance will hold pricing steady in the coming months.
Nevertheless, approximately 400,000 square feet of planned speculative construction is working through the entitlement process. Given the lack of available blocks of space greater than 15,000 square feet within quality industrial parks, this space should be well-received by prospective tenants who need to move operations into modern space in proven business locations. In addition, potential new entrants to the market will find appealing real estate options to house their operations and facilitate recruitment.
The increase in demand holds especially true in the Airport or West submarket, which is positioned to develop increased building inventory in the coming year as utility infrastructure, a full interchange off of Interstate 576 and developable land are available. Approximately 300,000 square feet of owner-user oriented construction is planned at the Industrial District at Westport. Within this submarket, the Buncher Company has leased approximately 150,000 square feet within its existing speculative building in Clinton Commerce Center and plans to expand the park to 450,000 square feet to accommodate additional demand, which includes a 228,000-square-foot, build-to-suit lease with FLABEG.
Elsewhere in the West submarket, Knepper Press recently completed construction of 100,000 square feet, and the Elmhurst Group completed a 60,000-square-foot flex building within the Class A McClaren Woods Business Park. The Turnpike Distribution Center secured a 170,000-square-foot, long-term lease, and Trammel Crow plans to break ground this spring on a new flex development.
The Northwest submarket will add inventory in 2009. Chapman properties is constructing 53,750 square feet of Class A flex space within its Leetsdale Industrial Park, and Sun Life is currently programming a 100,000-square-foot Class A industrial building within the 79 North Industrial and Research Park.
— Rick O'Brien, SIOR, is vice president of the Industrial Services Group in Grubb & Ellis Company's Pittsburgh office
Pittsburgh Office Market
Pittsburgh's Market is Still Strong, to Date, Despite Economic Downturn
The Pittsburgh office real estate market remains strong and active, despite the national economic downturn and recession fears. Contributing to Pittsburgh's steady business growth are the region's relatively low operating costs and its highly skilled workforce. Among the top 20 on Business Week's list of best places to ride out a recession, Pittsburgh boasts diversified industries. Key sectors, including biomedical, health care, education and government, are generally not cyclical and allow Pittsburgh to better sustain economic downturns.
Besides continuing construction of its global headquarters in Cranberry Woods (North submarket), Westinghouse Electric Company is expanding throughout the Pittsburgh market, taking large blocks of office space in Cranberry Township — the area's tightest submarket — and in Monroeville (East submarket). Large blocks of quality office space are scarce across the entire Pittsburgh market, and current tightened credit standards have contributed to less speculative development.
Beyond Westinghouse, a number of major leases, included on the chart to the right, have recently closed in Pittsburgh.
A significant development underway in Pittsburgh is the new Dick's Sporting Goods world headquarters, a 730,000-square-foot complex set on a 116-acre parcel in Findlay Township (West submarket). Currently under construction, the complex is slated for completion by January 2010. Both the Dick's and Westinghouse projects, upon completion, will bring some substantial square footage on the market as these companies vacate their current large suburban office buildings.
Third quarter 2008 data showed a Class A vacancy rate of 12.9 percent in the Pittsburgh market; the Class A rental rate was $21.69 for the same period. During the third quarter, office vacancy rates in Pittsburgh fell 1.4 percent over the past 12 months. This was the sharpest drop in vacancy for any major market during that period. With scarce new deliveries, this trend is expected to continue into 2009. Consequently, some predict that over the next two years Pittsburgh will show the steepest rental rate growth in the country.
The Parkway West submarket currently has the highest vacancy rate among suburban submarkets and can provide alternatives for tenants. It also has the largest amount of developable acreage in close proximity to the world-class Pittsburgh International Airport.
Among Pittsburgh's most active developers is the Sampson Morris Group, which is converting a number of former industrial properties into Class A flex/office projects. In addition, Chaska Properties is developing Cranberry Business Park, and Horizon Properties is developing Northfield (Pittsburgh International Airport/Findlay Township) and Southpointe II (Washington County).
— Philip Cynar is a senior communications specialist with the Pittsburgh Regional Alliance and Dan Adamski is an executive vice president at Jones Lang LaSalle Americas in Pittsburgh.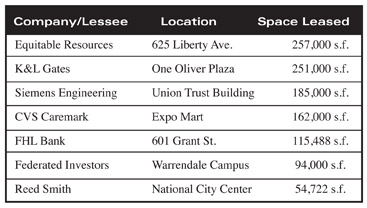 ©2009 France Publications, Inc. Duplication or reproduction of this article not permitted without authorization from France Publications, Inc. For information on reprints of this article contact Barbara Sherer at (630) 554-6054.