NORTHEAST SNAPSHOT, FEBRUARY 2007
Vermont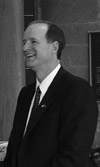 Kevin Dorn, secretary, Vermont Agency of Commerce & Community Development
Vermont's general market experienced a modest pace throughout this past year. Residential development, particularly pertaining to affordable and moderately priced developments, has lagged behind due to a variety of factors, while commercial development has continued at a moderate pace. Some large-scale retail has sprung up around the state and more is currently being proposed. A Lowe's is planned for Shelburne Road in South Burlington and a Wal-Mart for St. Albans Town. Overall, the state of Vermont currently has a wide range of Class A rental rates from about $5 to $20 per square foot.
Though there are few developers new to the area, Winstanley Enterprises, a Massachusetts-based real estate development company, has been one of the main developers leaving recent footprints in the state of Vermont. The company specializes in the leasing of biotech and research facilities and the development of flex, industrial and warehouse, office and retail properties. Winstanley is currently the leasing agent for 36 Precision Drive, an industrial facility in Springfield. The 373,000-square-foot facility, located off Interstate 91, contains 310,000 square feet of industrial space and 60,000 square feet of office space.
Other new developers in the Vermont area include HallKeen and The Braverman Company, who are currently redeveloping the downtown area of Winooski Falls. The $160 million project, designed by Arrowstreet and Niles Bolton Associates, will revitalize the downtown area of Winooski with residential, commercial and office components. The redevelopment will ease some pressure on residential rental and affordable housing in the metro Burlington area, as will two additional apartment complexes in South Burlington.
Although Redstone, a full-service Vermont commercial real estate firm, is not a new developer to the area, the firm has completed various projects throughout the state. In fall 2006, Redstone completed The Ponds at Bolton Valley Resort, a 6,600-square-foot events facility in Bolton. The $2 million facility, located 20 miles from Burlington and Montpelier, can hold a capacity of approximately 400 people.
Vermont's major development center is Chittenden County, due largely in part to its status as one of the only so called urban areas of the state. This is mainly because of its location among large institutional employers in the immediate area and city of Burlington. General Dynamics, IBM, Fletcher Allen Health Care and the University of Vermont are each headquartered in the Chittenden County area.
Outside Chittenden County, significant development including retail, lodging and residential projects is occurring at several ski areas, such as Stowe Mountain Resort, Sugarbush Resort and Jay Peak. In addition, a large project is proposed for Burke Mountain.
In 2007, the commercial real estate market in Vermont is expected to experience a significant amount of development. South Burlington, a submarket with major development potential, is currently working to establish a central area within the city, which would cause an increase in retail and office development. In addition, Williston, an area of existing retail development, is forecasted to increase in this sector throughout the year.
— Kevin Dorn is secretary of the Vermont Agency of Commerce & Community Development.


©2007 France Publications, Inc. Duplication or reproduction of this article not permitted without authorization from France Publications, Inc. For information on reprints of this article contact Barbara Sherer at (630) 554-6054.