COVER STORY, DECEMBER 2007
OFFICE UPDATES
Industry experts weigh in on the activity of major office markets in the Northeast.
Stephanie Mayhew
This month, Northeast Real Estate Business sat down with experts in the office industry to discuss the current activity in their respective markets and what can be expected in the future.
New York City Is Riding High
The office market in Manhattan, New York City, continues to surpass all expectations. A tight market with low vacancy rates and high rental rates has led to new development and a blockbuster investment market. "The velocity of leasing in Manhattan is outpacing supply and demand continues to be healthy and strong," says Cynthia Wasserberger, senior vice president at Jones Lang LaSalle in Manhattan. "Although leasing activity is below 2006 levels, availability remains tight and rents have risen to unprecedented levels; thus, most buildings that have single digit or low single digit vacancies and rents will continue to tick upward."
New product and renovations in the Bryant Park area are showing favorable numbers, and the Plaza District in Times Square has become a prime area with rental rates averaging close to $100 per square foot. "Previously, Class A space in Midtown had been pretty varied in its pricing, but in the third quarter, the overall average crossed the $90 per square foot mark for the first time," says Wasserberger. In the trophy subset, the average asking rents are topping $120 per square foot. "These high rates led to an increase of 35 percent year-over-year in comparison to last year's rental rates," explains Wasserberger.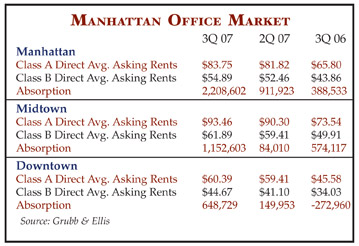 The Downtown market continues to flourish as well as companies are looking to the area in search of lower rental rates. "The disparity between Midtown and Downtown rents is a particularly interesting trend because as that differential gets wider and wider, Downtown becomes more and more attractive to tenants," notes Wasserberger. "Right now the variance is about $40 per square foot — Midtown rents for Class A space are just a little above $90 per square foot and Downtown rents for Class A space are a little above $50 per square foot. So, the $40 difference is significant to tenants that are faced with opportunities to either stay or go or move within Manhattan." This disparity has caused many companies to split operations between Midtown and Downtown markets. For example, AIG took space at 277 Park, but they also renewed Downtown at 160 Water Street.
The current market and the demand for large blocks of Class A space has spurred developers into action. Downtown, the World Trade Center site will bring approximately 2.6 million square feet of office space to the market, drawing even more users Downtown. Developers are also eyeing the Penn Plaza area. Vornado Realty Trust is transforming the Hotel Pennsylvania into a 61-story office building, and the Hudson Yards sites are also drawing quite a bit of attention from developers. The eastern yards site will allow for 6.3 million square feet of developable space, and the western yards will allow for 5.7 million square feet. Heading west, Brookfield Properties plans to develop a complex of four office buildings with connecting public spaces on a 5-acre site that is bounded by 31st to 33rd street on Ninth Avenue. The entire site comprises 4.7 million square feet of buildable density. "Much more development will be driven by the extension of the subway that is going west. Once it hits that western corridor it will spur development in the entire area," says Stuart Romanoff, executive vice president of Cushman & Wakefield.
The financial services industry has always driven the majority of the office activity in Manhattan. "That is the engine that keeps the city running," says Romanoff. "It fuels multiple professional services industries that lend support to the financial sector, and historically, when the financial firms grow, the ancillary firms grow as well." Predictions for future growth of the financial services industry can be tough, but most analysts are optimistic based on past performance. "Since August 2003, office jobs increased by 98,000 jobs, and of that 98,000, 56,000 of those jobs were professional services jobs and the remaining balance of 39,000 was for the financial industry," says Romanoff.
Despite the uncertainty in the credit market, the New York City investment market has continued to show strong activity this year. "Through June, the investment market is the strongest that has ever been recorded for New York City," says Romanoff. "There have been $34.1 billion in sales closed or under contract. That compares to the previous record in 2006, which was $34.7 billion in closed transactions. By year-end, volume is expected to reach more than $40 billion."
The commercial real estate market tends to be cyclical and New York City is no exception. "There has been a huge spike over the last few years, and like any cyclical market we are expecting it to somewhat settle, but do not anticipate much of a decline," Romanoff says. Wassererger concurs, stating that notes that many have adapted a bit of a wait and see attitude despite the strong market. "For 2008, many people want to see if there are any potential layoffs that might have a ripple effect," she says.
New Jersey Looks To Its Key Submarkets
While it can be tough to pigeonhole the office activity in New Jersey because of the multitude of submarkets, activity overall is modest at best. With vacancy rates ranging from 15 percent to even 22 percent, the New Jersey office market clearly favors the tenant. "Looking back at the past six to eight quarters, there has not been any significant changes in either direction, except for in some specific submarkets," says Gregg Najarian, corporate managing director at Studley. "It is really just about musical chairs and being more reactive to lease expiration." The overall office vacancy rate is currently sitting at 17.4 percent, only half a percentage down from the last quarter.
Due to the soft market, some tenants are looking to move to higher quality spaces or are re-negotiating their leases. "Some tenants that are in a position to look ahead are taking advantage of the fact that it is a tenant's market and are restructuring leases that have a few years left to lock in today's rates," notes Najarian. "Some may also consider doing a modest expansion."
Other tenants are looking at the current market as an opportunity to consolidate office space. Prudential, which set out to consolidate its office space in New Jersey this year, is vacating the Eisenhower Corporate Campus at 290 West Mt. Pleasant Avenue in Livingston by year-end. The four-building, 385,000-square-foot campus is now one of the largest blocks of contiguous space available in the New Jersey office market.
Jeff Garibaldi, president of The Garibaldi Group, which is currently marketing the Eisenhower facility, notes that in order to attract high-end corporate tenants to the marketplace, landlords are realizing that they have to provide high-end amenities such as fitness centers, state-of-the-art meeting and conference spaces, and large, full-service cafeterias all within a campus-like setting.
The oversupply of space and little or no meaningful growth in rental rates has put a damper on the development of new office space in New Jersey; however, the Newark and New Brunswick submarkets are set to move to the forefront of the office market.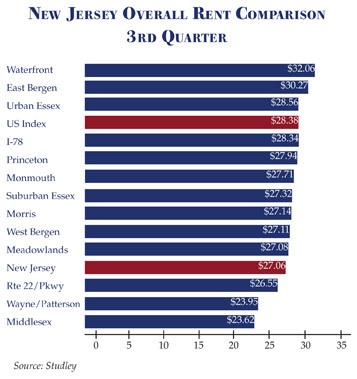 Newark is making its way onto the national map with the construction of the Prudential Center, a new pro sports arena and concert venue. Officials are anticipating that the further arena will be a catalyst for new commercial development in the area. Najarian notes that several large office developments, ranging from 300,000 to 500,000 square feet, have been approved; however, these buildings will not be built until tenants are secured. "Newark has every single thing going for it that an urban office market needs, except for a noteworthy residential component and a night life," explains Najarian. "Once that happens, you will start to see a big difference in the city because it has tremendous public transportation, the Newark airport and many cultural aspects."
According to Garibaldi the recent groundbreaking of the 160,000-square-foot Stem Cell Institute in New Brunswick should bring in a substantial amount of activity from the life sciences industry. The institute, which is adjacent to the Robert Wood Johnson University Hospital across from the Cancer Institute of New Jersey, is a joint venture between Rutgers University and the University of Medicine & Dentistry of New Jersey-Robert Wood Johnson Medical School.
Looking ahead to 2008, the New Jersey office market should start to see slight improvements. However, Najarian notes that New Jersey will have to work to become a more business friendly environment to really improve the current climate and encourage an influx of outside tenants. "That is one of the things we are waiting to see improve before we have a rosy outlook moving forward," he says.
Philadelphia Heads In The Right Direction
Improved vacancy rates, rental growth and the development of substantial Class A office space underscore the current climate in the Philadelphia office market. For approximately the last 8 quarters rental growth for Class A office space has increased, and office vacancy rates are forecast in the 12.5 to 13 percent range by year-end and rents should grow about 3 percent to $23 to $24.
"The Philadelphia market is not as volatile as the Manhattan marketplace, so there will not be anything outrageous in terms of dramatic demand that would drop vacancy to 5 percent or a huge climb in rents," explains Spencer Yablon of Marcus & Millichap. "The vacancy rate should continue to drop slowly and rental rates will continue to grow slowly in the 3 to 3.5 percent range."
The current healthy rates have spurred office development in the Philadelphia market, which seems to be spearheaded by REITs. Liberty Property Trust is developing one the biggest projects of the year, the Comcast Center. Located at 1701 John F. Kennedy Boulevard, the 57-story skyscraper will include 1.2 million square feet of Class AA office space as well as 23,000 square feet of retail space. "When the Comcast Center was originally announced, the commercial office industry thought it was going to create huge holes, but it has actually been very successful because it brought users into the City Center market that weren't here before," says Kenneth E. Kearns, vice president of Trinity Capital Advisors/CORFAC International.
After much success with Cira Centre, Pennsylvania-based Brandywine Realty Trust signed a 90-year ground lease with The University of Pennsylvania for the U.S. Post Office Truck Terminal Annex facility, which is located on the east side of 30th Street in Philadelphia. The REIT will be developing Cira Centre South, a multi-phase, mixed-use project that will feature 400,000 to 500,000 square feet of office space, street-level retail and a 733,000-square-foot, 2,400-space parking facility. The facility may also include a hotel, residential space and additional retail components. The University is set to lease approximately 100,000 square feet of office space for a 20-year term. Construction of the project, which includes the demolition of the existing facility, is slated to begin first quarter 2008 with completion scheduled for mid-2010.
There are also several other office buildings proposed along Market Street as well as many in the pipeline including projects at 1000 Continental Drive, 3711 Market Street, 656-676 East Swedesforde Road in Wayne, 505 Eagleview Boulevard, 103-187 Windmere Road, Corporate Parkway at Center Valley and 30 Stockton Drive. According to Kearns, so many of these new projects will come to fruition because of the lack of large blocks of space. "Overall, office market vacancy rates have dropped down to about 10 percent, and the largest block of space available is only at the 100,000-square-foot range," he says. "Therefore, tenants looking for space above that range will need to consider new construction."
The life sciences industry Philadelphia's universities are driving the majority of the activity in the office market. "The university hospitals of Thomas Jefferson, Drexel, University of Pennsylvania and Temple University have all created substantial need for additional facilities and office requirements outside the traditional campus, which has helped Center City fill much of its vacancy," notes Kearns. "From a workforce standpoint, City Center is more convenient, has more amenities and offers better transportation."
The University of Pennsylvania Hospital and the Children's Hospital of Philadelphia both took notable amounts of space when they moved their administrative offices from University City to Center City. In addition, the universities bring new users to the market in the form of start-up life science and technology companies.
City officials in the greater Philadelphia area have also played a key role in attracting users to the office marketplace. "There have been several office inquiries from outside the state because Pennsylvania has done a nice job of presenting incentive packages with the Keystone Innovation Zones," remarks Kearns. Because of these efforts several financial services companies and a few alternative energy companies have been looking in the area for possible space.
Also aiding the office development in downtown Philadelphia is the construction of several residential buildings. The Murano, a 43-story, 302-unit condominium facility; The Residences at The Ritz-Carlton, a 44-story multifamily building; and Symphony House, a 163-unit property, are all contributing to a more work, live, play atmosphere in the heart of Philadelphia.
Investors continue to show an appetite for office product in Philadelphia. "The average price last year was around $133 per square foot, and this year it has edged up slightly to $134 to $137 per square foot on average," Yablon says. "Investors from other markets look at Philadelphia as a bargain in comparison to what they are seeing in their local marketplace. Almost half of our deals or more are purchased by out of town buyers."
Prices are expected to remain steady for Class A product, but Yablon explains that cap rates might creep up a bit for B and C properties. Sales velocity is anticipated to gradually increase over the next 6 to 12 months.
In terms of future development, the planned expansion at Philadelphia's downtown convention center as well as the new casinos should bring more jobs, hotels and other ancillary development to the Philadelphia marketplace, injecting a significant amount into the city's economy.
Key Industries Drive Activity in Pittsburgh
The majority of the activity in the Pittsburgh office market, much like Philadelphia, is being driven by activity from the existing universities and hospitals. According to Randy McCombs, executive vice president and managing director of GVA Oxford Real Estate, "They tend to be very strong economic drivers not only for the city, but for the entire region of Pittsburgh," notes McCombs. "The University of Pittsburgh Medical Center health system is certainly the region's largest employer and by far the most significant economic generator for western Pennsylvania," says McCombs. The company has 19 hospitals as well as research facilities within the city, and it recently announced that it will move its administrative office headquarters into Pittsburgh. This move will result in the positive absorption of roughly half million square feet on a long-term basis in the U.S. Steel Tower, the city's largest building at 64 floors and 2.4 million square feet. "This will result in about 2,000 jobs moving into the city and there will probably be other companies that will want to move into the city as well to be near it," explains McCombs.
Carnegie Mellon University also drives activity in the Pittsburgh office market. "There are a number of businesses that come into the Pittsburgh marketplace due to the creation of robotics and computers at CMU," says McCombs. In addition, financial institutions and general technology firms are also showing interest in office space in Pittsburgh.
Several submarkets within the Pittsburgh area are also exhibiting positive activity.
Cranberry Township, which is located about 25 miles north of the CBD, has shown some of the most significant amount of new development in the last several years. According to McCombs Cranberry Township is attractive to developers because of its lower taxes and prime location. "I-79, the Pennsylvania Turnpike and Route 19 all intersect at one point in Cranberry Township, so from an access standpoint it is a tremendous location," explains McCombs. Westinghouse's nuclear division recently broke ground on a 772,000-square-foot build-to-suit office building in Cranberry Township, resulting in an additional 2,000 jobs.
Washington County, in southwest Pittsburgh is home to new development as well. Cullinan Properties is developing Southpointe Town Center, a mixed-use development that will feature residential, quite a bit of office and light manufacturing. "It is a great alternative along I-79 because there are two interchanges that the development has access to," says McCombs. Consolidated Coal, which is headquartered here in Pittsburgh, is constructing an approximately 400,000-square-foot headquarters in that area as well.
In downtown Pittsburgh, several buildings are being rehabbed or torn down and being turned into residential developments, which is helping Pittsburgh become a 24/7 city. PNC Bank is undergoing a significant expansion and redevelopment in the center of downtown. Once complete, it will feature 300,000 square feet of office space, a Fairmont Hotel and 30 high-end luxury condos. In the Parkway West corridor, Dick's Sporting Goods has announced plans to continue significant growth in personnel and are looking to take over more space in the coming years.
Historically not a boom and bust city, McCombs notes that the office market in Pittsburgh will gradually tighten as companies expand and development and redevelopment continues.

©2007 France Publications, Inc. Duplication or reproduction of this article not permitted without authorization from France Publications, Inc. For information on reprints of this article contact Barbara Sherer at (630) 554-6054.